Famously Dead A-Z:

Cause of Death:
View information about Donny Hathaway's death here on famously-dead.com. You can view information about Donny Hathaway's death and other famous deaths. You can view by name or by cause of death. We also have included the most popular famous deaths.
Donny Hathaway's Death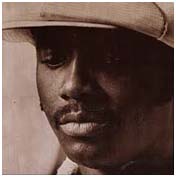 Donny Hathaway
Music
October 1, 1945
January 13, 1979
Suicide
The life and death of Donny Hathaway:
He thrilled his audiences with his jazz, blues, soul and gospel singing. And when he teamed up with Roberta Flack they scored big with their 1973 hit "Where is the Love." But as his career was peaking, Donny Hathaway was found to have paranoid schizophrenia. This is a condition in which a person may suffer from delusions and hallucinations. Donny was known to skip doses of the medicines that he needed to control it, and died from a fall from a high rise hotel in New York City in what was determined to be a suicide.
Donny Edward Hathaway started life in another big American city, born in Chicago. He was the son of Drusella Huntley but he was raised in St. Louis by his grandmother Martha Pitts.
He started performing at the age of three, singing in a church choir with his grandmother, who was a professional gospel singer. After graduating high school in 1963, Donny went on to study music on a fine arts scholarship at Washington's Howard University, where his classmate and close friend Roberta Flack also attended.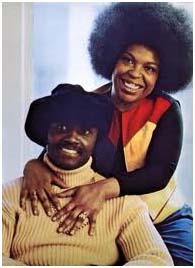 In 1967, Donny left Howard without a degree after receiving job offers in music, specifically as a songwriter, producer and session musician. He started with Twinight Records and moved on to Curtom Records as a producer for that label, which was owned by Curtis Mayfield of the Impressions.
By 1969, Hathaway joined Atco Records, after being discovered by producer-musician King Curtis.
Things started to roll with his third album, when he joined Roberta Flack on an album of duets with his former Howard University classmate. "Where is the Love" was not only to be an R&B success but also scored in the Top Five of the pop Hot 100.
That album also featured cover versions of Carol King's "You've Got a Friend", the Aretha Franklin song "Baby I Love You" and "You've Lost That Loving Feeling", which was a big hit for the Righteous Brothers.
Donnie also worked as the co-composer and performer on the Christmas standard "This Christmas".
That song was later also recorded by Diana Ross, Stevie Wonder, Aretha Franklin and Harry Connick Junior, among others.
And Donny had another big run on the charts in 1978 when he teamed again with Roberta Flack for the duet "The Closer I Get to You" on her "Blue Lights in the Basement" album.
Donnie and his wife Eulaulah met at Howard University and they had two daughters, Eulaulah Donyll and Kenya. But Donny then began to suffer from severe bouts of depression and he was diagnosed with paranoid schizophrenia. Compounding the problem, he failed to take his prescription medication regularly.
His mental instability led to several hospitalizations and his friendship with Flack suffered for a while too, although they managed to patch things up.
On January 13th, 1979 Donny was at a recording session and was in good voice but began acting irrationally – appearing to be paranoid and delusional. The session ended early and a few hours later, Donny's body was found on the sidewalk outside of his 15th floor room of the Essex House Hotel in New York City.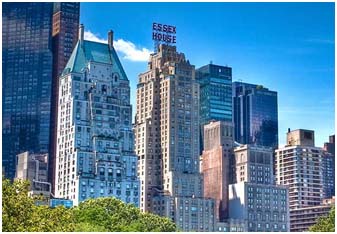 He fell or jumped from a balcony. Since the glass was neatly removed from the window, and there was no sign of a struggle, investigators concluded it was a suicide.
There was a rumor that he was in hot water with elements of the Mob. Donny had mentioned that he thought white men wanted to kill him for gambling debts he couldn't pay.
Roberta Flack was devastated and included the duet tracks they had completed on her next album "Roberta Flack featuring Donny Hathaway."
Hathaway's funeral was conducted by the Reverend Jesse Jackson.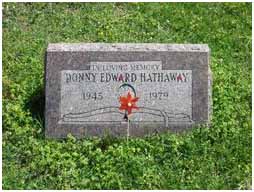 Donny's buried at Lake Charles Park Cemetery in St. Louis.