Famously Dead A-Z:

Cause of Death:
View information about Chuck Berry's death here on famously-dead.com. You can view information about Chuck Berry's death and other famous deaths. You can view by name or by cause of death. We also have included the most popular famous deaths.
Chuck Berry's Death

Chuck Berry
Music
October 18, 1926
March 18, 2017
Natural Causes
The life and death of Chuck Berry:
He was a rock and roll original, truly the first of the guitar men whose unique style on stage – duck walk and all …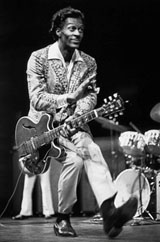 …inspired later artists. He enjoyed a long and varied career, although he had some scrapes with the law and suffered a career setback when the 1960's British invasion of rock and roll took over.
Charles Edward Anderson Berry was born in St. Louis, Missouri. He was the fourth of six children born to Henry William Berry and his mother Martha.
Chuck's father was a contractor and deacon of a local Baptist church. His mother was a public-school principal. Like the main character of one of his future songs (Johnny B. Goode), his mother assured him as a boy that he would someday make it big.
Chuck's first public performance came in a high school show in 1941. But three years later, he was arrested for armed robbery after holding up some stores in Kansas City and stealing a car at gunpoint.
Berry was convicted and sent to a reformatory near Jefferson City, Missouri and served three of ten years.
He formed a singing group while he was there and was released when he turned 21 in 1947.
He worked a series of odd jobs after that but by the early 1950's he started playing with local bands in St. Louis clubs. He'd been practicing his guitar riffs and his career was really launched when he travelled to Chicago in the Spring of 1955 and met Muddy Waters.
Waters suggested he contact the head of Chess Records and it was there that Chuck recorded "Maybelline", which he adapted from a country song called "Ida Red."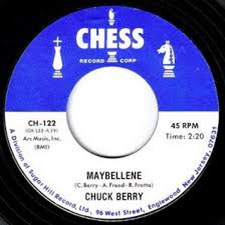 His string of hits began with that song.
…and continued with songs like Johnny B. Goode…
… "Roll Over Beethoven", "Sweet Little 16", "Rock and Roll Music", "School Days", "Back in the USA", "Memphis Tennessee", "No Particular Place to Go" and "You Never Can Tell". His lyrics paired social commentary with a hard driving rock and roll beat.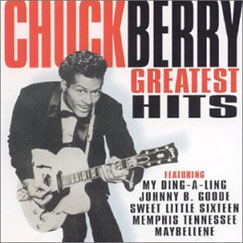 Chuck's only number one single came in 1972, with "My Ding-A-Ling."
It was a low point in 1962 when he was arrested on the Mann Act, basically for sex with a 14-year-old girl that he took across a state line. That landed Chuck in jail and he was released a year later.
There were later instances that marred his public reputation, including a four-month jail term and community service in 1979 for tax evasion, since he demanded to be paid in cash.
And in 1994, Berry paid one and a third million dollars to settle a lawsuit by some former women employees who accused him of videotaping them in the bathroom of his restaurant.
But his tremendous impact on rock music never changed. The Beatles covered his songs in their early years.
…and Chuck also influenced the Rolling Stones, the Beach Boys, Bruce Springsteen and several other artists.
Chuck was a charter member of the Rock and Roll Hall of Fame…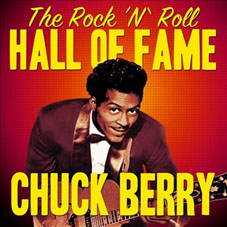 With his star on the Hollywood Walk of Fame…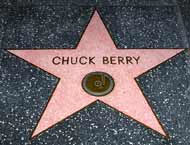 …Chuck Berry remains one of rock and roll's most esteemed pioneers. He's survived by his wife Thelma Suggs and four children.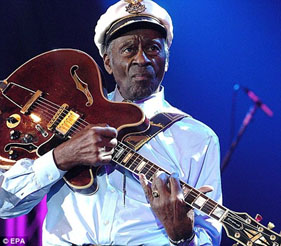 And while many of his songs are solid gold, there's a bronze statue of him on the Delmar Loop in his hometown of St. Louis.