Famously Dead A-Z:

Cause of Death:
View information about Bobby Darin's death here on famously-dead.com. You can view information about Bobby Darin's death and other famous deaths. You can view by name or by cause of death. We also have included the most popular famous deaths.
Bobby Darin's Death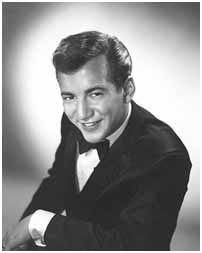 Bobby Darin
Singer, Songwriter, Actor
May 14, 1936
December 20, 1973
Heart Failure
A multitalented performer, he scored big as a singer and songwriter in several musical genres including early rock 'n roll, folk, country, pop and jazz. He also starred in movies and television. But he died young, because of several childhood bouts with rheumatic fever.
Bobby Darin was born in the Bronx, New York. His name at birth was Walden Robert Cassotto. His mother, Giovannina, became pregnant at age 16 and the family tried to hide it (this was the mid 1930's), so he was raised by his grandparents – an Italian grandfather and an English-Danish grandmother. His actual mother was presented as his older sister. He found out about their actual relationship in 1968, when he was 32 years old. His mother never revealed who Bobby's father was.
Walden showed musical talent early, playing guitar, drums and piano by the time he was a teenager and later, as Bobby, added the xylophone and harmonica.
Bobby began his musical career as a songwriter working with a fellow student from the Bronx High School of Science, Don Kirshner. (Don became a noted producer years later, working with Carole King, Neil Diamond, Neil Sedaka, Paul Simon, Phil Spector and The Monkees.)
Meantime, Bobby was writing songs for Connie Francis…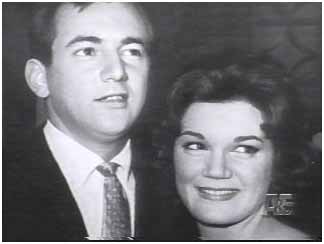 …although her father didn't approve of their romantic link and their relationship broke up. She was later quoted as saying not marrying him was the biggest mistake of her life.
Bobby made his first big hit with "Splish Splash", in 1958.
Some of his other early hits included "Dream Lover", the 1959 smash "Mack the Knife", and "Beyond the Sea".
Then Hollywood beckoned and Bobby's first big role was in 1960's "Come September".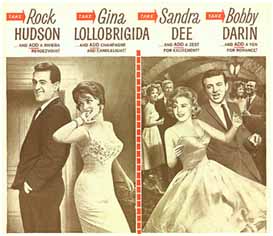 …in which he met his future wife Sandra Dee…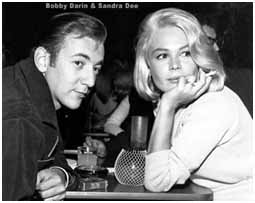 Bobby won a Golden Globe award for his part in "Come September."
Bobby and Sandra had a son, Dodd, in 1961, but divorced in 1967.
Another and even bigger film role for him came in 1963 when he was nominated for Best Supporting Actor for playing a shell-shocked soldier in "Capt. Newman MD", co-starring Gregory Peck.

(Melvyn Douglas won the Best Supporting Oscar that year for "Hud".)
Even though he was making movies, he still had a big-time presence in music. In the 1960's, he co-owned and operated TM Music/Trio and signed Wayne Newton, giving Wayne his first big song, "Danke Schoen." He also mentored Roger McGuinn, who later formed "The Byrds".
Country music caught Bobby's ear in 1962 and he began writing and singing country songs.
"You're the Reason I'm Living" and "18 Yellow Roses" were other hits.
As the 60's wore on, Darin's music took a turn to folk songs and he turned politically active. Bobby worked on Robert Kennedy's 1968 Presidential campaign and was at the Ambassador Hotel in Los Angeles the night Kennedy was shot.
That same year, when his "sister" told him she was really his mother, that truth – coupled with RFK's assassination - rocked Bobby's world and he went into a long period of seclusion.
In his later work, Bobby had a hit with Tim Hardin's "If I Were a Carpenter" and in 1969, he returned the favor.
Already weakened by recurring bouts with rheumatic fever as a child, Bobby was left with a damaged heart. He underwent his first heart operation in 1971 and spent most of the year recuperating from the surgery. In the final years of his career, he often needed oxygen after his performances.
In 1973 Bobby didn't take the antibiotics prescribed to protect his heart before a dental visit, developing systemic infection or sepsis. This wracked his body further. And on December 11 of that year, he went into Cedars-Sinai Medical Center in Los Angeles for heart surgery to repair two artificial heart valves he received in 1971.
Although the medical team worked for over six hours to repair his damaged heart, Bobby Darin died in the recovery room on December 20, 1973. He was only 37 years old and never regained consciousness.
But Bobby's mark on entertainment hasn't been forgotten. A movie based on his life was released in 2004. "Beyond the Sea" starred Kevin Spacey and Kate Bosworth, with Spacey using his own voice to sing Bobby Darin's songs.
Bobby Darin's last wish was that his body be donated to science for medical research and his remains were transferred to UCLA medical center a short time after his death.