Famously Dead A-Z:

Cause of Death:
How did Bob Marley die? Here on famously-dead.com, you can view information about Bob Marley's death and other famous deaths. You can view by name or by cause of death. We also have included the most popular famous deaths.
Bob Marley's Death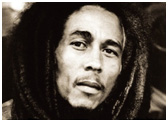 Bob Marley
Music
February 6, 1945
May 11, 1981
Cancer
The life and death of Bob Marley:
He achieved global fame with a series of crossover reggae albums. Born Nesta Robert Marley in Jamaica, a passport official reversed his first and middle names and he became known as Bob.
His father Norval Marley …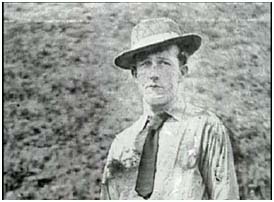 …was of British Syrian descent and was often absent, although he did support his family.
In 1955, when Bob was 10, his father died of a heart attack at the age of 70.
Raised Catholic, Bob converted to the Rastafarian faith and grew dreadlocks and became a vegetarian.
He began playing music in high school and joined a vocal group and his career took off with the Wailers, as he developed a one-of-a-kind songwriting vocal style. When the Wailers broke up in 1974, Marley went solo establishing his international reputation with the album, Exodus.
Other big hits included "Roots, Rock, Reggae":
And Jammin':
In 1977, he relocated to London and was arrested for possession of marijuana.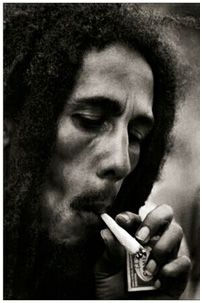 And in July 1997, Marley was found to have a malignant melanoma under a toenail. Citing his religious beliefs as a committed Rastafarian, he rejected his doctor's suggestion to have the toe amputated. Even though he was ill, he continued to schedule a world tour in 1980.
His last concert was in Pittsburgh in September, 1980. Marley's condition worsened as cancer spread throughout his body. It eventually went to his lungs and brain, causing his death.
Bob Marley recognized as many as 11 children. He's a member of the Rock& Roll Hall of Fame and honored on the Hollywood Walk of Fame.
He's buried in a mausoleum near his childhood home in Nine Mile, Jamaica.