Famously Dead A-Z:

Cause of Death:
View information about Bo Diddley's death here on famously-dead.com. You can view information about Bo Diddley's death and other famous deaths. You can view by name or by cause of death. We also have included the most popular famous deaths.
Bo Diddley's Death

Bo Diddley
Music
December 30, 1928
June 2, 2008
Heart Failure
The life and death of Bo Diddley:
He was a musical innovator, who transitioned from blues to rock and roll. And as his nickname "The Originator" bore out, he influenced some of the biggest acts of the rock era, including Elvis Presley, Buddy Holly, the Beatles, the Rolling Stones, Jimi Hendrix, Eric Clapton, The Doors and The Who (among others).
His innovation also carried over to his name. He was born Ellas Otha Bates in McComb, Mississippi. After being adopted and raised by his mother's cousin, Gussie McDaniel, he assumed her last name and was known as Ellas McDaniel.
In 1934, the family moved to the South Side of Chicago and became a member of the local Baptist church and studied trombone and violin. But he heard the guitar at the local Pentecostal church and became interested in that instrument at his primary means of musical expression.
He even made a few unusual ones himself.

He was playing local gigs in Chicago and the origin of his stage name Bo Diddley isn't clear. But in March, 1955, he hit the big time with his song, aptly named, "Bo Diddley":
He was famous for a constant driving rhythm in his songs, and his other big hits included "I'm a Man", "Pretty Thing" and "Who Do You Love?"
In November, 1955, Bo appeared on the Ed Sullivan TV show on CBS. But Ed was angered when Bo mistakenly sang two songs instead of one and he was banned from the show. Ed mistakenly predicted Bo's career wouldn't last another year.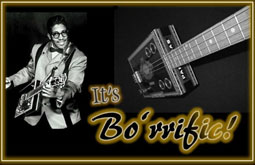 He was still around four decades later as a member of the Rock and Roll Hall of Fame (inducted 1987) and even some acting roles. He wrote "Love is Strange" for Mickey and Sylvia in 1957 and was part of a 1963 concert tour with the Everly Brothers, Little Richard and this up and coming act called The Rolling Stones. He played intimate clubs and stadiums alike.
In his later years, Bo had a legal fight with Nike, the sportswear brand, over copyright infringement, specifically using his likeness and the slogan "You Don't Know Diddley".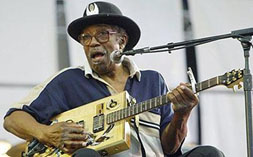 In May, 2007, Bo suffered a stroke and was hospitalized in intensive care in Omaha. He went home to McComb, Mississippi and died of a stroke at his home in Archer, Florida in June, 2008.
His four-hour long funeral took place in Gainesville, Florida's Showers of Blessings Church and many in attendance chanted "Hey Bo Diddley" as his music was played by a Gospel band.
Tributes were paid by then-President George W. Bush and the House of Representatives and he as posthumously awarded Doctor of fine Arts Degree by the University of Florida.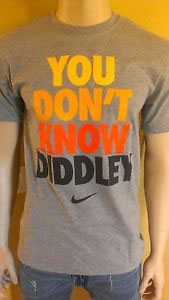 Bo's buried at Rosemary Hill Cemetery in Bronson, Levy County, Florida.