Famously Dead A-Z:

Cause of Death:
View information about Barry White's death here on famously-dead.com. You can view information about Barry White's death and other famous deaths. You can view by name or by cause of death. We also have included the most popular famous deaths.
Barry White's Death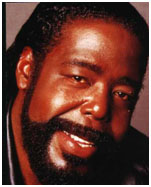 Barry White
Music
September 12, 1944
July 4, 2003
Renal Failure
The life and death of Barry White:
A singer-songwriter and composer, he hit his peak during the disco dance music craze and had a string of major recorded hits, which included twenty gold and platinum singles. His worldwide record sales are estimated to have topped 100 million and with his distinctive bass voice, he's remembered as one of the pioneers of disco.
He was born Barry Eugene Carter in Galveston, Texas…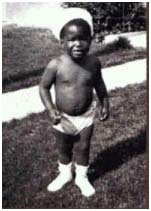 …and grew up on the tough streets of South Central Los Angeles. Living with his mother and a younger brother, Barry took up the piano, playing songs he'd heard in his mom's classical music collection.
As a teen, he and his brother ran with gangs in their high crime neighborhood. When he was 17, he did four months in jail for stealing $30,000 worth of car tires. Luckily for him, his voice changed from a kids' squeak to his booming bass, right around the time he was listening to Elvis Presley singing on records while he was sitting in jail. He said the music changed his life.
After getting out of jail, in the 1960's, he got involved with singing groups and started recording. And by 1972, he had a break-through as producer for a female act called "Love Unlimited", who modeled themselves after the Supremes.
There was a deal with Uni Records that fizzled and Barry moved over to 20th Century Records. He also married Love Unlimited's lead singer, Glodean James.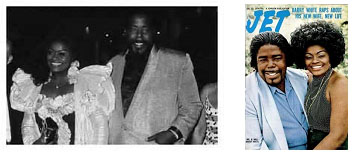 In 1973, Barry created the "Love Unlimited Orchestra", a 40-piece ensemble that used to back up his original girl group. That's when he also wrote and played on the orchestra's huge single, "Love's Theme."
He really hit it big again in 1974 with his signature #1 Pop and R&B hit. (Way before MP3's…long before CD's, Barry's song was available on now extinct eight track tapes.)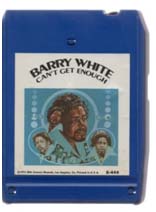 "Can't Get Enough of Your Love Bad" was quickly followed by another R&B and Pop smash, "You're the First, the Last, My Everything."
By the 1980's, White left 20th Century and formed his own label, Unlimited Gold with CBS/Columbia Records. But as the disco era came to an end, so did his chart hits. In the '90's, Barry rode a nostalgia wave to renewed popularity, but his best years in music were behind him.
He still did other things, like appearing as himself in some episodes of Fox TV's "The Simpsons" and appearing in commercials for Oldsmobile and Jeep, in a commercial as a bus driver in 1995.
Barry was overweight for much of his adult life…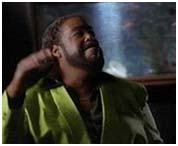 …and his health suffered.
He was hospitalized in 1995 because of high blood pressure and needed to cancel a month's worth of tour dates in 1999, related to exhaustion traced to high blood pressure. In 2002, he was hospitalized with kidney failure, because of the combined one two punch of diabetes and high blood pressure.
He was awaiting a kidney transplant in May 2003, and undergoing dialysis, when he suffered a severe stroke that forced his retirement from public life. On Independence Day that year, Barry died after suffering total renal failure.
His remains were cremated and scattered off the coast of California by members of his family.

A member of the Dance Music Hall of Fame, Barry's memorialized by a star on Hollywood's Walk of Fame…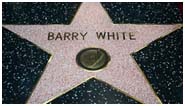 …awarded to his widow Glodean…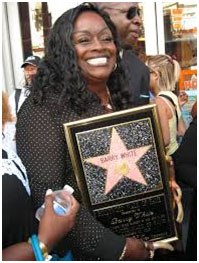 …on what would have been his 69th birthday in 2013.