Famously Dead A-Z:

Cause of Death:
How did Wayne Rogers's die? Here on famously-dead.com, you can view information about Wayne Rogers's death and other famous deaths. You can view by name or by cause of death. We also have included the most popular famous deaths.
Wayne Rogers's Death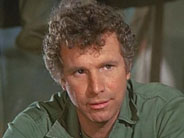 Wayne Rogers
Actor, Financial Commentator
April 7, 1933
December 31, 2015
Pneumonia
The life and death of Wayne Rogers:
He had an interesting and very varied career, first gaining fame as an actor in both serious and comedic roles, then reinventing himself as a financial strategist.
He was born William Wayne McMillian Rogers III in Birmingham, Alabama and attended local schools before attending the Webb School in Bell Buckle, Tennessee.
Then it was off to the Ivy League and he graduated from Princeton University with a History degree in 1954. After a stint in the U.S. Navy, he started his acting career.
He appeared in both dramas and sitcoms, everything from "Gunsmoke" to "Gomer Pyle" and he had a small supporting role in the 1967 hit Paul Newman movie "Cool Hand Luke".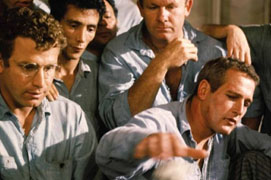 But his most memorable role was from 1972 to 1975 when he was cast a Trapper John, opposite Alan Alda's Hawkeye Pierce, in the TV spinoff of the hit move M*A*S*H.
Wayne was succeeded in the Trapper John role in the spin off series "Trapper John M.D." by Pernell Roberts.
Other acting roles followed but Rogers already had been testing his prowess in the stock and real estate markets while still a member of the M*A*S*H cast and reinvented himself as a successful money manager and investor.
He later became a regular on Fox Business Network's "Cashin' In" program….
...and served as a spokesman for a Long Island based reverse mortgage lender.
Wayne was given a star on the Hollywood Walk of Fame in 2005…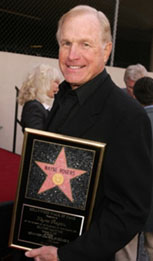 ...and was married twice; to Mitzi McWhorter in 1960. They had two children but divorced in 1983. Rogers was married to his second wife, Amy Hirsch …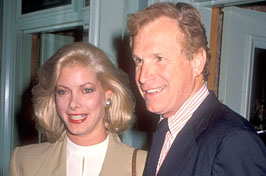 from 1988 until he died. That came on the last day of 2015 from complication from pneumonia in Los Angeles, at the age of 82. Wayne was also survived by his son Bill, daughter Laura and four grandchildren.