Famously Dead A-Z:

Cause of Death:
View information about Shirley Temple's death here on famously-dead.com. You can view information about Shirley Temple's death and other famous deaths. You can view by name or by cause of death. We also have included the most popular famous deaths.
Shirley Temple's Death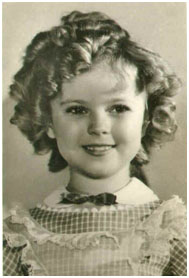 Shirley Temple
Actress, Diplomat
April 23, 1928
February 10, 2014
Natural Causes
The life and death of Shirley Temple:
She was a Hollywood superstar at the age of four, one of the most popular movie stars of her time whose name endured when her films were later shown on TV, cable and video. And when her popularity as an actress waned as she matured, Shirley Temple reinvented herself and later represented the United States in various diplomatic positions.
Shirley Temple was a natural from the day she was born in Santa Monica, California and given her perfect show-biz name. Her mother Gertrude was a homemaker and her father George Temple worked for a bank. Shirley had two brothers, George and John.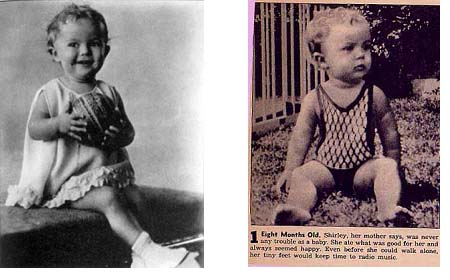 Her mom encouraged her singing, dancing and acting as an infant, enrolling her in a dance school when she was only three. Mom also started styling her hair in curls, like the popular film start of the time, Mary Pickford.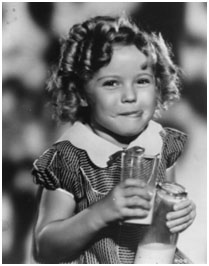 A casting director for Education Pictures spotted the child at the school and invited Shirley to audition and she landed a role in a series of brief films called "Baby Burlesks". When Educational Pictures went broke in 1933, Fox Films signed her for bit parts and loaned her out to Warner Brothers and Paramount for other small roles.
Shirley hit the big time in 1934's "Stand Up and Cheer" and rocketed to stardom as a symbol of family entertainment. The four year old got a raise (in the midst of the Depression) to $1250 a week. (Mom pulled in another $150 a week as hairdresser and coach.)
Another big hit followed, "Little Miss Marker" in the summer of '34 and by the end of the year, she sang her signature song, "On the Good Ship Lollipop" in "Bright Eyes."
She won a Juvenile Oscar for the part in February, 1935.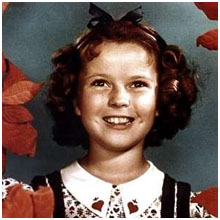 Shirley kept making hit movies and her films were seen as generating hope and optimism in very dark economic times. Even President Franklin Roosevelt says the smiling baby face was enough to make people forget their troubles.
"Curly Top" was another fan favorite and was the source of another of her trademark tunes, "Animal Crackers."
Some of her other big roles were in "The Littlest Rebel", in which she teamed with the legendary dancer -"Mr. Bojangles" himself, Bill Robinson.
1939's "The Little Princess" saw Shirley at her peak, a commercial and critical hit. 20th Century Fox Studio chief Daryl F. Zanuck was convinced Shirley would successfully move from child star to teenage actress and turned down MGM's offer to make her star as Dorothy in "The Wizard of Oz", the role which supercharged the career of Judy Garland.
By the early 40's Temple appeared in two flops for 20th Century Fox, "The Blue Bird" and "Young People" and by 1944 Selznick had a new young starlet to dote on, Jennifer Jones, and Shirley's career went on the back burner.
Still beautiful at age 16, Shirley was working to raise money for Canadian Victory bonds when this photo was snapped in Ottawa in 1944.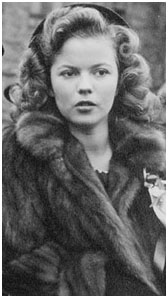 However, by December 1950, at the age of 21, Shirley Temple took stock of a series of film duds and retired from the movies.
There were a few bumps in her personal life too. She married John Agar as a 17 year old in 1945. He was from a Chicago meat packing family and they had a daughter, Linda in 1948, but divorced in 1949.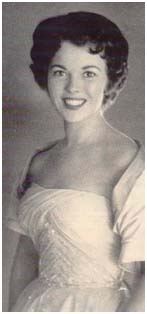 In January 1950, she met Charles Black, considered one of the richest young men in all of California.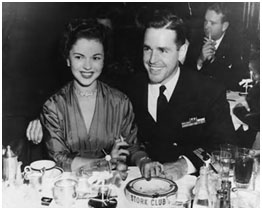 They married in December of that year, and are seen here in a 1953 photo in New York City's Stork Club.
Black managed Los Angeles TV station KABC and Shirley stayed home with their son Charles, born in April 1952, and daughter Lori, born in April, 1954. Shirley and Charles remained married for 54 years, until he died of bone marrow disease in the summer of 2005.
Shirley appeared on TV occasionally, like "The Shirley Temple Show" on NBC in 1960 and had guest shots on "The Red Skelton Show" and "Sing Along With Mitch".
However there was a bigger "public" side of Shirley's life in her middle years.
She ran for Congress in 1967 in California…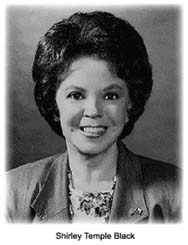 …and lost to Pete McCloskey, a liberal Republican who became known as a strong opponent of the Viet Nam war.
However, that didn't stop her political ambitions and – working primarily for Republican Presidents - Shirley eventually served as U.S Ambassador to Ghana and Czechoslovakia…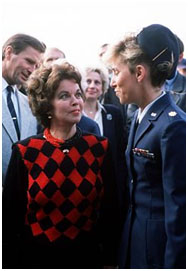 …when the Communist regime collapsed in 1989. Shirley Temple Black also served as Chief of Protocol of the United States, as part of the U.S. State Department.
Shirley Temple was diagnosed with breast cancer in 1972 and underwent a modified radical mastectomy. She also became one of the first famous women to speak openly about the disease.
Although more than a half century removed from her Hollywood career, the film capital never forgot her.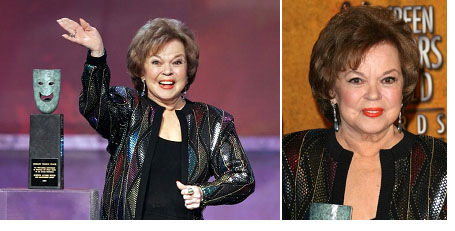 Shirley Temple was surrounded by family and care givers when she died of natural causes and is survived by three children and her grandchildren and great grandchildren.
Shirley Temple was a living icon in her day. The Ideal Toy Company sold $45-million worth of Shirley Temple dolls before 1941. She received a star on Hollywood's Walk of Fame in 1960.
And there's a non-alcoholic drink that bears her name. Legend has it that the concoction of ginger ale, grenadine topped with a maraschino cherry was invented by a Beverly Hills bartender in the 1930's, to serve to the biggest child movie star ever.