Famously Dead A-Z:

Cause of Death:
View information about Phillip Seymour Hoffman's death here on famously-dead.com. You can view information about Phillip Seymour Hoffman's death and other famous deaths. You can view by name or by cause of death. We also have included the most popular famous deaths.
Phillip Seymour Hoffman's Death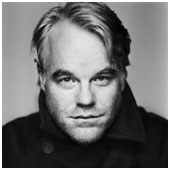 Phillip Seymour Hoffman
Actor
July 23, 1967
February 2, 2014
Drug Overdose
The life and death of Phillip Seymour Hoffman:
He was regarded by many as one of the leading actors of his generation, able to morph into various kinds of roles. He won an Academy Award for Best Actor and received several nominations for best actor in supporting roles. His talents went beyond film, in that he received three Tony Award nominations for his work in the theatre.
However, Philip Seymour Hoffman wrestled with a dark demon that overtook him. Addicted as a young man, he kicked a heroin habit only to relapse into it just a few weeks before he died of an apparent drug overdose. He was found dead in a Manhattan apartment with a hypodermic syringe sticking out of his arm, on the day of the Super Bowl in New York City in February 2014.
Philip Seymour Hoffman, his name at birth, started life in a suburb of Rochester, New York. His mother, Marilyn O'Connor, was a Family Court judge and lawyer. Philip's father worked as an executive for Xerox. Philip had two sisters and a brother. He never developed a deep relation to any denomination, although his parents were Christians – the father Protestant and his mother a Catholic.
After an injury forced him to give up wrestling, Hoffman began acting while a student that Fairport High School. He later admitted that he joined the drama club because a nice looking girl said she was going to audition for a play. He won a role and fell in love. Not with her, but with the stage. By the time he was 17 he was attending a theater school at the New York State Summer School of the arts in Saratoga Springs, New York.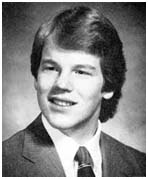 Later, Hoffman earned a drama degree from New York University's Tisch School of the Arts.
His first major acting role was in a 1991 episode of the TV show "Law and Order" and Philip made his film breakthrough in 1992's "Scent of a Woman", in which he played opposite Al Pacino as the spoiled, cowardly classmate of the movie's main character.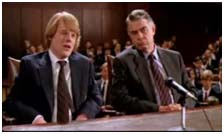 Other roles in the early to mid-1990 included an inexperienced mobster in "The Getaway" and "Nobody's Fool", in which his character took a punch in the face from one of Philip's film idols, Paul Newman.
As time passed his roles grew. In 1997, Philip starred opposite Mark Wahlberg in "Boogie Nights" as Scotty, the loser production assistant.
Philip's biggest role was his Academy Award winning performance in "Capote"
He received Best Actor's recognition.
Philip's range also allowed him to make his mark in the baseball film, "Money Ball", playing opposite Brad Pitt.
Hoffman's Broadway career included well received performances in "The Author's Voice", "True West" and "Long Day's Journey into Night". He also was hailed for his work as a stage director for "Jesus Hopped the 'A' Train" and "Our Lady of 121st Street."
Hoffman had a 15 year long relationship with Mimi O'Donnell, a costume designer.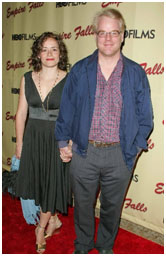 They had three children together, a son and two daughters.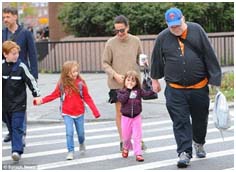 Hoffman had kicked a heroin habit and said he was clean for more than twenty years before a 2012 relapse that led to ten days in a rehab facility in 2013. He apparently knew he was in deep trouble when he told a magazine publisher at the 2014 Sundance Film Festival he was a heroin addict.
Mimi had thrown him out of their Greenwich Village apartment and he got a new place a few blocks away. He was supposed to visit with his kids on the morning of Sunday, February 2nd. On that 2014 day, while the New York City area was bubbling as the regional site of its first Super Bowl ever, the day's excitement came crashing down when Philip was found dead in the bathroom of his West Village apartment by a friend.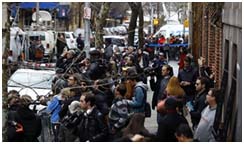 It's believed to have been a drug overdose because as many as twenty empty heroin envelopes and prescription drugs were found.
Not only were his fans shocked. So were many of Hollywood's big names.
Philip's funeral was held at St. Ignatius Loyola church in Manhattan on February 7, 2014.

He was buried in a private ceremony.
Less than a month later, the New York City Medical Examiner ruled that Hoffman died of an accidental overdose from several hardcore drugs, including heroin, cocaine, benzodiazepines and amphetamines.
Philip left most of his fortune to Mimi O'Donnell, the mother of his three children. He also had an unusual last wish in his will – that his son Cooper grow up in one of three U.S cities: New York, Chicago or San Francisco, so he could be exposed to the culture, arts and architecture that they offer. (Cooper was his only child when that will was written.)