Famously Dead A-Z:

Cause of Death:
View information about Peter O'Toole's death here on famously-dead.com. You can view information about Peter O'Toole's death and other famous deaths. You can view by name or by cause of death. We also have included the most popular famous deaths.
Peter O'Toole's Death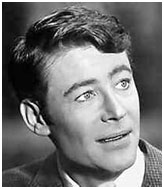 Peter O'Toole
Actor
August 2, 1932
December 14, 2013
Unspecified Illness
The life and death of Peter O'Toole:
A line from one of his movies, "My Favorite Year", summed up this life: "I'm not an actor! I'm a movie star!" Actually, Peter O'Toole was both, all while living his life to the fullest.
His place of birth is disputed. Some say it was in County Galway, Ireland while others claim he was born in Leeds, England. One thing is certain, he was raised as a Catholic in Leeds, son of Constance Elliott Ferguson and Patrick Joseph O'Toole, a football player and racecourse bookie.
In the early years of World War II, O'Toole was evacuated from Leeds and sent to a Catholic school. When he finished school he went to work for the Yorkshire Evening Post as a photographer and trainee journalist until he was called up to serve in the Royal Navy.
Once his service was done, O'Toole attended the Royal Academy of Dramatic Art and had Albert Finney and Alan Bates as classmates. He started working in the theatre and made his TV debut in 1954.
His big break came in 1962 in "Lawrence of Arabia"…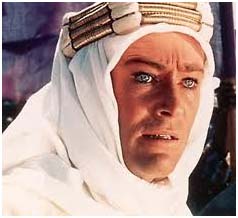 …when the producers found that Marlon Brando wasn't available and Finney rejected the role.
His popularity zoomed and he earned the first of eight Academy Award nominations.
His was nominated for an Oscar for playing the same role - King Henry II - in two different movies, in 1964's "Beckett"…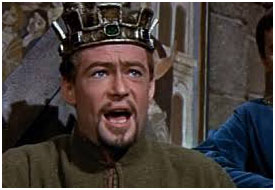 …and 1968's "The Lion in Winter"…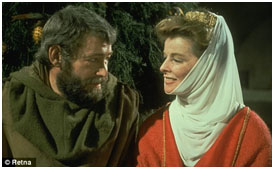 …seen here with co-star Katherine Hepburn.
O'Toole's other five Best Actor nominations came for: "Goodbye Mr. Chips", "The Ruling Class", "The Stunt Man", "My Favorite Year", and "Venus".
Peter never won for any of those roles but in 2002, he was presented an Academy Honorary Award for his entire body of work.
He also developed a reputation for living life to the hilt. O'Toole was a legendary drinker.
Peter had two daughters with his first wife, Sian Phillips. And had a son, Lorcan, with girlfriend Karen Brown.
O'Toole also battled stomach cancer, originally misdiagnosed because of his consumption of alcohol and underwent surgery in 1976 to have his pancreas and part of his stomach removed. He then developed diabetes and nearly died of a blood disorder in 1978. But he always managed to bounce back and resume his acting career.
He claimed to lose faith in organized religion as a teenager but told a 'New York Times" interviewer that "No one can take Jesus away from me", while also announcing he was a "retired Christian."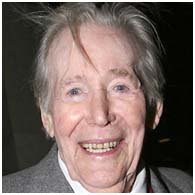 O'Toole died in London's Wellington Hospital a few weeks before Christmas in 2013, after what was called "a long illness."