Famously Dead A-Z:

Cause of Death:
View information about Paul Walker's death here on famously-dead.com. You can view information about Paul Walker's death and other famous deaths. You can view by name or by cause of death. We also have included the most popular famous deaths.
Paul Walker's Death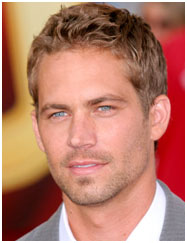 Paul Walker
Actor
September 16, 1973
November 30, 2013
Car Crash
The life and death of Paul Walker:
He gained his fame in a series of movies that highlighted speed and daring. Paul Walker's ending was fast - and just as furious - in a flaming car wreck
He was the son of a fashion model, Cheryl Crabtree Walker and a sewer contractor, Paul William Walker. His paternal grandfather was a professional boxer, "Irish" Billy Walker. His other grandfather raced factory cars for Ford. Paul Walker grew up in a working-class Mormon household in Glendale, California.
The oldest of five children, Walker's mother began taking him to auditions and he starred in a TV commercial for Pampers, as he began his child modeling career at the age of 2. Walker said his early entry into show business wasn't the start of a career path but merely a way to help out the family with extra money.
By the mid '80's, he was appearing in small roles on TV shows like "Who's the Boss", "Charles in Charge" and "Touched by an Angel".
Paul had his feature film debut in 1998's "Meet the Deedles", and supporting roles followed in "Pleasantville", "Varsity Blues" and "She's All That."
Walker's big breakthrough came in 2001 when he starred with Vin Diesel as undercover police officer Brian O'Connor in "The Fast and the Furious."
In the sequel "2 Fast 2 Furious", he reprised his Brian O'Connor role:
While appearing in other movies, Walker's best remembered for the Fast and Furious series, starring in all but one of the six films. He was ready to resume filming in the series' seventh installment the week after Thanksgiving when fate stepped in.
It was the Saturday of the long holiday weekend. Walker and his friend Roger Rodas…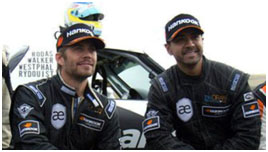 …had just completed a benefit fundraiser for victims of a recent typhoon in the Philippines. The event was held by the charity Walker established in 2010 to help victims of natural disasters, Reach out Worldwide.
In this last known photo taken of him alive….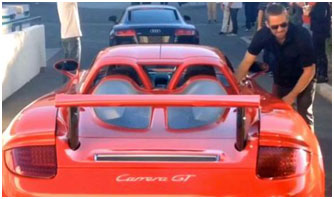 …Walker got into the Porsche Rodas was driving. A short while later, the car crashed into a light pole in Valencia, California and burst into flames. Deputies found the Carrera GT engulfed in fire when they responded to the report of a collision.
Two people were found in the flaming wreckage. One of them was Walker.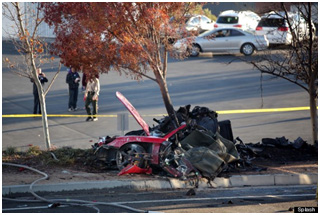 Authorities said speed was a factor in the crash and the Los Angeles County coroner said Walker died of injuries suffered in the crash and subsequent fire.
He left a 15 year old daughter, Meadow.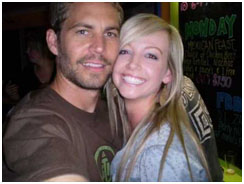 Her mother is Walker's one-time girlfriend Rebecca McBrain.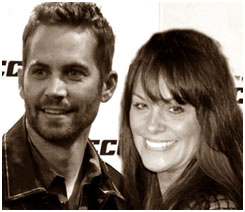 Walker's "Fast and Furious" co-star Diesel posted a photo of him and Walker arm-in-arm on Instagram with the message: "Brother I will miss you very much. I am absolutely speechless." Other movie stars and friends posted tributes to him on social media.
Two weeks after the fatal crash, Paul Walker was buried in Hollywood's Forest Lawn Memorial Park.
And in a ghoulish post-script to the Paul Walker story, less than a week after the fatal crash, Los Angeles detectives arrested a teenager accused of stealing some wreckage from the Porsche that Walker died in.