Famously Dead A-Z:

Cause of Death:
View information about Patrick Macnee's death here on famously-dead.com. You can view information about Patrick Macnee's death and other famous deaths. You can view by name or by cause of death. We also have included the most popular famous deaths.
Patrick Macnee's Death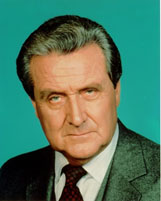 Patrick Macnee
Actor
February 6, 1922
June 25, 2015
Natural Causes
The life and death of Patrick Macnee:
Here's a guy whose acting career started in 1938 and lasted through 2003, a total of 65 years! His biggest role was as secret agent John Steed, who preferred an umbrella to a gun, in the hit TV series "The Avengers".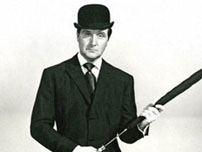 He was born Daniel Patrick Macnee in London to racehorse trainer Daniel and Dorothea May Hastings, who descended from a British Earl.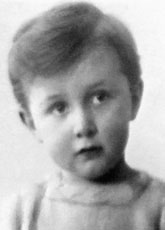 His parents divorced after his mother left his father for another woman and moved in with her wealthy partner, whom he called Uncle Evelyn. She helped pay for his education and he attended Summer Fields School and Eton College, but he was expelled from Eton for booking horse racing bets and selling pornography.
It was on to the Webber Douglas Academy of Dramatic Art after that, when he was called to serve in the U.K. Armed Forces for World War II. He left the Navy in 1946 as a lieutenant and moved to Canada, where he started acting.
An early film role was as the young Jacob Marley…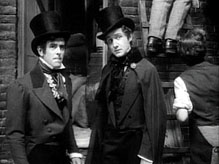 …in the 1951 film version of "A Christmas Carol", starring Alastair Sim as Scrooge. He spent most of the 1950's working small roles in American and Canadian TV and theatre. His big break came in 1961, when he was offered the role originally called Jonathan Steed in "The Avengers".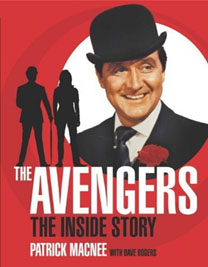 He roared to the lead role after one season as his John Steed became the series hero and the show ran until 1969.
Though cast as a suave British spy, he didn't care much for the James Bond movie series and nearly lost the role of Steed because he opposed violence and didn't want to carry a gun. When the producers asked him what he thought he should carry, he said: an umbrella.
However, he did latch on to Bond's attraction for beautiful women, having a series of lovely sidekicks in his long running series.
Honor Blackman…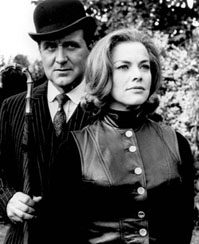 …played Catherine Gale from 1962-64. (She left the series to play Pussy Galore in the James Bond film "Goldfinger.")
Diana Rigg…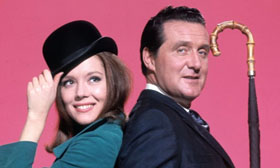 …was famously cast as Emma Steed from 1965 to 1968.
Linda Thorson had the role of Tara King…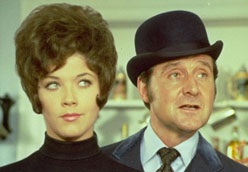 …from 1968 to 1969.
He was asked in 1982 to name his favorite co-star but refused to do so, finding something good to say about each of them.
Although he didn't care for the James Bond shtick, he played opposite Roger Moore in 1985's "A View to a Kill"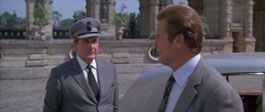 "Battlestar Galactica" was another of Macnee's full length feature credits…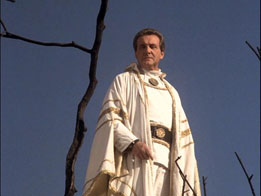 …along with numerous other movie and television appearances.
As in "The Avengers", his real-life women came in threes.
Patrick married Barbara Douglas in 1942…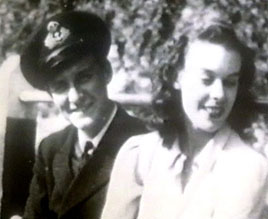 …and they had two children – Rupert and Jenny - but divorced in 1956.
Wife number two was actress Katherine Woodville…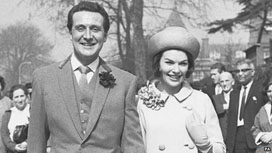 …whom he married in 1965 until their 1969 breakup.
He and his third wife, Baba Majos de Nagyzsenye, were married in 1988…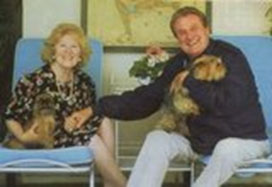 …until she died in 2007.
Patrick was 93 years old when he died of natural causes in Rancho Mirage, California. He is survived by his two children and a grandson.