Famously Dead A-Z:

Cause of Death:
View information about Omar Sharif's death here on famously-dead.com. You can view information about Omar Sharif's death and other famous deaths. You can view by name or by cause of death. We also have included the most popular famous deaths.
Omar Sharif's Death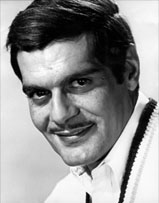 Omar Sharif
Actor
April 10, 1932
July 10, 2015
Heart Attack
The life and death of Omar Sharif:
This Egyptian born actor started his career in his native land, but found real fame after changing his name and going to Hollywood. He was often cast as a foreigner, helped by the fact that he spoke English, Spanish, French, Italian, Arabic and Greek fluently.
Michel Demitri Chalhoub was born in Alexandria to a Greek Catholic family of Lebanese descent. The family moved to Cairo when Michel was four years old and his mother was a society hostess. Egypt's King Farouk was a frequent houseguest.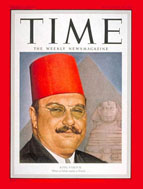 Michel began acting in Egypt in 1954 but landed his first big English speaking role in 1962's "Lawrence of Arabia", opposite Peter O'Toole.
A huge part followed in 1965 when he landed the title role in "Doctor Zhivago".
And in 1968, he played opposite Barbra Streisand as Nicky Arnstein in "Funny Girl".
Omar married actress Faten Hamama in 1954 …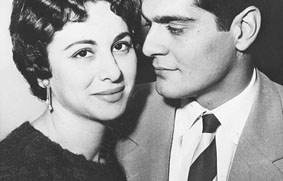 …and he converted to Islam when they married. They had a son, Tarek…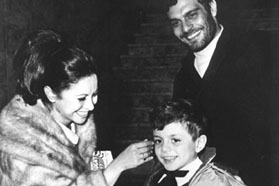 …but divorced in 1974 after an eight year separation. Sharif never remarried – saying he never fell in love again.
Sharif was a heavy smoker, puffing on one hundred cigarettes a day until he needed a triple bypass operation in 1992. He quit smoking but nevertheless suffered a mild attack in 1994.
By May, 2015, his family said he was suffering from Alzheimer's disease, his son saying he would mixed up the names of "Lawrence of Arabia" and "Doctor Zhivago."
Sharif died of a heart attack in a Cairo hospital at the age of 83…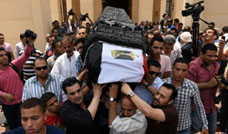 …with a funeral held in the Grand Mosque of Mushir Tantawi in eastern Cairo.