Famously Dead A-Z:

Cause of Death:
View information about Natasha Richardson's death here on famously-dead.com. You can view information about Natasha Richardson's death and other famous deaths. You can view by name or by cause of death. We also have included the most popular famous deaths.
Natasha Richardson's Death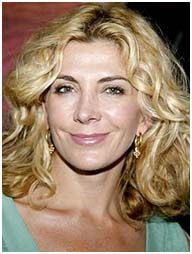 Natasha Richardson
Actress
May 11, 1963
March 18, 2009
Ski accident
She came from a famous acting family, was married to a well-known actor but died in a very tragic way while she was out trying to have some fun.
Natasha Richardson was born and brought up in London, pictured with her mother, sister Joely Kim and brother, Carlo Gabriel.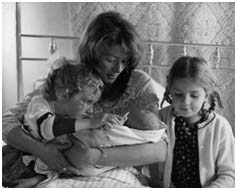 She was a member of the Redgrave family, considered an acting dynasty on stage and screen. Her mother was actress Vanessa Redgrave …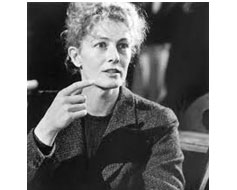 …and her father was film producer/director Tony Richardson.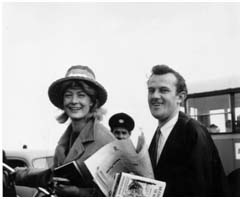 Natasha began her acting career at the West Yorkshire Playhouse in Leeds, England and played in several presentations including the role of Blanche Dubois in a revival of Tennessee Williams' "A Streetcar Named Desire".
An early film role was as newspaper heiress-alleged kidnap victim Patty Hearst
Her first marriage to actor Robert Fox …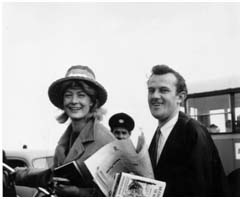 …lasted two years, ending in a divorce in 1992. Natasha then married actor Liam Neeson.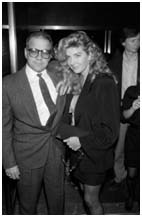 They met when they both appeared in the play "Anna Christie" and they had two sons, Michael and Daniel.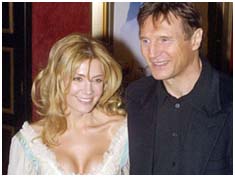 She also helped to raise millions of dollars in the fight against AIDS, which claimed her father's life. And although she quit smoking, Richardson was an outspoken opponent of the ban on smoking in New York City restaurants.
The end was completely unexpected. While taking a beginner's skiing lesson on March 16, 2009, Richardson suffered a head injury when she fell at the Mount Tremblant Resort in Quebec, near Montreal.
At first, she seemed okay because she was able to walk and act normally. Responding paramedics were told they weren't needed and left. Natasha refused medical attention twice, returned to her hotel room but went to a nearby hospital about three hours later after complaining of a headache. She was then transferred to another hospital by ambulance about seven hours after the fall, in critical condition.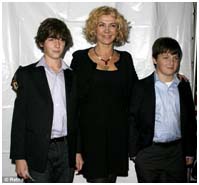 The next day she was flown to New York City's Lenox Hill Hospital, where she died at the age of 45.
An autopsy by the New York Medical Examiner's Office revealed the cause of death was an epidural hematoma, because of a blunt impact to the head. It was ruled an accident.
Natasha wasn't wearing a helmet when she suffered her head injury, sparking debate on whether helmets should be required while skiing. Mount Tremblant Resort still considers it a personal preference. But reports from the BBC say more skiers and snowboarders started using helmets after Natasha's accident, and several other high profile deaths (including musician/politician Sonny Bono.)
On March 19th, the day after Natasha died theatre lights were dimmed on Broadway and in London's West End. Following a private wake in Manhattan, a private funeral was held.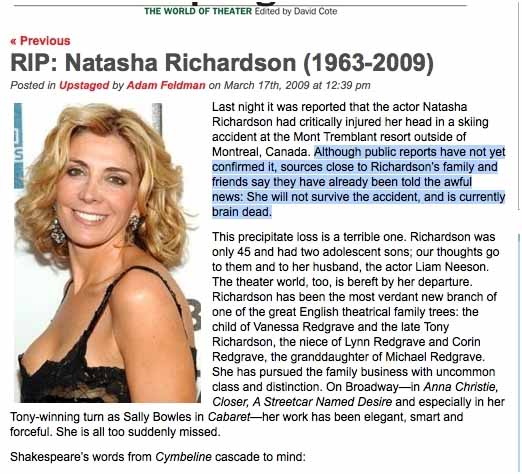 And Natasha was laid to rest near her maternal grandmother at St. Peter's Episcopal Cemetery in Dutchess County, New York.