Famously Dead A-Z:

Cause of Death:
View information about Michael Clark Duncan's death here on famously-dead.com. You can view information about Michael Clark Duncan's death and other famous deaths. You can view by name or by cause of death. We also have included the most popular famous deaths.
Michael Clark Duncan's Death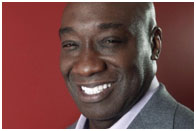 Michael Clarke Duncan
Actor
December 10, 1957
September 3, 2012
Heart Attack
The life and death of Michael Clark Duncan:
He was a big man who burst on the scene with a huge movie part - winning nominations for an Academy Award and a Golden Globe Award for his breakout role as John Coffey in "The Green Mile." Thanks to his deep bass voice, he was also well-known for voice acting roles in animated films such as "Brother Bear", "Kung Fu Panda" and "Green Lantern". Seemingly destined for even bigger stardom, it didn't last long, because his heart gave out.
The name you know him by was the name on his birth certificate: Michael Clarke Duncan. Born in Chicago, Illinois he grew up in a single-parent household. His father walked out on the family. His mother, Jean Duncan, cleaned houses to support herself, Michael and his sister Judy.
Young Michael had aspirations to be an actor but dropped out of Alcorn State University's communications program to support his family when his mother became ill. A big man at 6'5" 315 pounds…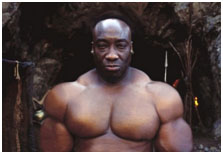 …he made money digging ditches for the local gas company and working as a bouncer at several Chicago clubs.
Michael also played basketball at Kankakee Community College and, for a single season, at Alcorn State.
He got into some mischief. At age 22, he attended Disco Demolition Night at Comiskey Park during a White Sox game and was among the first 100 people to run out onto the field, sliding into third base. In the ensuing riot, he claimed his silver belt buckle was stolen…while he was stealing a baseball bat from the dugout.
Then it was off to Los Angeles where he took security jobs while trying to get acting work in commercials. He served as a bodyguard for people like Will Smith, Jamie Foxx, Martin Lawrence, LL Cool J and notorious B.I.G. However when the rapper was killed in 1997, Michael quit the security business.
His early movie roles were bit parts as a bouncer in "Bulworth" and "A Night at the Roxbury." His first big role was Bear in 1998's "Armageddon. He struck up a friendship with cast mate Bruce Willis, who helped him get his signature role as John Coffey in "The Green Mile", opposite Tom Hanks.
Although he didn't win, Michael hit the big time with an Academy award nomination for Best Actor in a Supporting Role and a nomination for the Golden Globe for a supporting actor.
The parts started rolling in and Michael played in a string of films. He appeared in both action and comedy roles, in films including, "The Whole Nine Yards", "Planet of the Apes" and "The Scorpion King."
He also appeared on numerous TV shows like "The Suite life of Zack and Cody", "CSI NY" and "Chuck Versus the First Date." Michael also hit the talk show circuit and was a frequent guest on the "Late Late Show with Chris Ferguson", appearing 18 times with the last one airing the day after his death.
In July 2012, Michael was taken to the hospital after suffering a heart attack. There were reports his girlfriend Omarosa Manigault…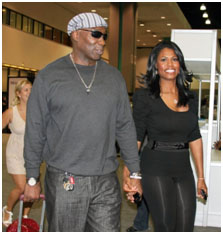 …later described as his fiancé, tried to save his life by performing CPR. He was admitted to intensive care. In August came word that Duncan was out of intensive care but remained hospitalized. In early September, he died in Los Angeles.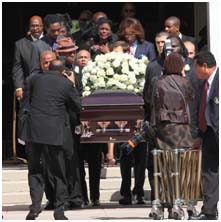 After his death came tributes from some of the people in show business whose lives he touched.
Michael Clarke Duncan was buried…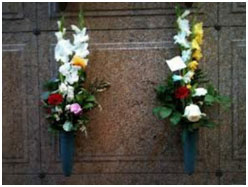 …in an unmarked grave at the Forest Lawn Cemetery in Los Angeles. There was a family dispute over the site's inscription.