Famously Dead A-Z:

Cause of Death:
View information about John Ritter's death here on famously-dead.com. You can view information about John Ritter's death and other famous deaths. You can view by name or by cause of death. We also have included the most popular famous deaths.
John Ritter's Death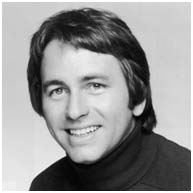 John Ritter
Actor
September 17, 1948
September 11, 2003
Heart disease
John Ritter was born into a show biz family. His father was the actor-country singer Tex Ritter and his mother was actress Dorothy Fay.
Befitting that, he attended Hollywood High School and was student body President. John then went on to the University of Southern California. He majored in Psychology but also studied acting privately.
His first TV appearance was on the "Dating Game" in 1965. He later had bit parts on "Hawaii Five-0," "MASH", "The Streets of San Francisco" and "Kojak", among other shows.
His big break came in 1975 when he beat out fifty actors, including Billy Crystal, to star in a new ABC sitcom based on a British series. Known as "Man about the House" across the pond, it became "Three's Company" here.
It was a smash as Ritter personified the role of Jack Tripper who pretended to be gay while living in an apartment with two lovely women. It was cancelled in 1984 but Ritter earned a Golden Globe and Emmy for his work.
He also appeared in several movies, including Sling Blade, where he played a gay store manager.
In real life he was married twice.
Also a noted narrator, who gave voice to the animated character Clifford the Big Red Dog on PBS, John Ritter died suddenly while rehearsing for a new film of an aortic dissection - a torn aorta -caused by an undiagnosed congenital heart defect.