Famously Dead A-Z:

Cause of Death:
View information about John Candy's death here on famously-dead.com. You can view information about John Candy's death and other famous deaths. You can view by name or by cause of death. We also have included the most popular famous deaths.
John Candy's Death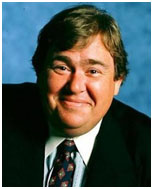 John Candy
Actor, Comic
October 31, 1950
March 4, 1994
Heart Attack
The life and death of John Candy:
He was born in Canada, died in Mexico and had millions of fans in the United States and around the world. Starting in television, he branched out into film and his range of talents led to believable portrayals in both comedy and drama.
John Franklin Candy was born in Newmarket, Ontario in a working class Roman Catholic family. His father was named Sidney and his mother was Evangeline Aker Candy. His schooling took him through Toronto's Centennial College and McMaster University.
His first major role was as an extra in 1973's "Class of '44", followed by some other low budget movies.
Things started popping for him in 1976 when he joined Toronto's "Second City Television" group. When NBC picked up the show in 1981, it became a major hit and won Emmy Awards for writing in 1981 and 1982.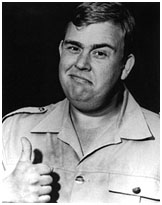 John developed a stable of characters, including Doctor Tongue, Johnny La Rue and Mayor Tommy Shanks, among others. He also impersonated celebrities ranging from other actors to politicians.
John took a break from the TV show in 1979 and scored a minor role in the Steven Spielberg comedy 1941, and moved on to a part in "The Blues Brothers", starring Dan Aykroyd and John Belushi. His film credits grew and his breakout big screen role was in 1984's "Splash", which starred Tom Hanks.
"Uncle Buck" was one of his best known comedy roles.
And one of his most famous portrayals was as Del Griffith, the talkative shower-curtain ring salesman…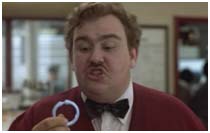 …in "Planes, Trains and Automobiles", with Steve Martin.
In that role, along with the usual stuff played for laughs…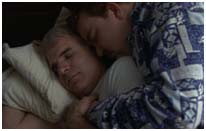 …John also showed a serious side.
And that flair for the dramatic was front and center in his role as Dean Andrews in Oliver Stone's 1991 movie about the assassination of President John F. Kennedy, "JFK".
John also became part owner of a sports franchise, the Toronto Argonauts of the Canadian Football League, in 1991. The team took the league title that year, because the new ownership team spent money acquiring players.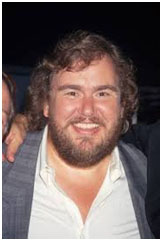 In 1994, John was filming "Wagons East" in Durango, Mexico and notified CFL officials that he would sell the team. He cooked a lasagna dinner for his staff, made a few phone calls and went to bed.
John never woke up. In the early morning hours of March 4, 1994, he died in his sleep from a massive heart attack. John Candy was only 43 years old.
Survived by his wife Rosemary…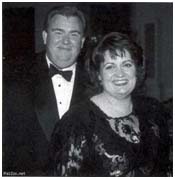 …and two children, Jennifer and Christopher, John's funeral was held at St. Martin of Tours Catholic Church in Los Angeles.
He's buried in a mausoleum at Holy Cross Cemetery in Culver City, California.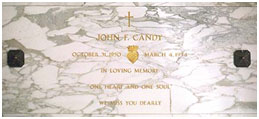 After his death, the John Candy Visual Arts Studio was dedicated in his honor at Neil McNeil Catholic High School in Toronto.