Famously Dead A-Z:

Cause of Death:
View information about James Rebhorn's death here on famously-dead.com. You can view information about James Rebhorn's death and other famous deaths. You can view by name or by cause of death. We also have included the most popular famous deaths.
James Rebhorn's Death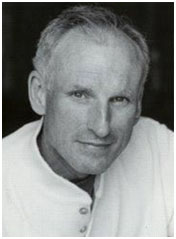 James Rebhorn
Actor
September 1, 1948
March 21, 2014
Cancer
The life and death of James Rebhorn:
He was one of those character actors you'd seen and recognized dozens of times, though you may never have known his name. During a career spanning several decades in film and on TV, he often played flinty characters in genuine and believable portrayals.
James Robert Rebhorn was born in Philadelphia, and moved the Anderson, Indiana as a child with his parents: Ardell Hoch Rebhorn and James Rebhorn Sr., an industrial engineer and salesman. A devout Lutheran of German descent, he once said he considered becoming a Lutheran minister.
James studied political science at Ohio's Wittenberg University after graduating Madison Heights High School in Indiana. He then moved to New York where he earned a Master of Fine Arts in acting at Columbia University.
From there James launched into an acting career that saw him in over one hundred film and television portrayals…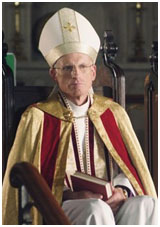 …best known for playing lawyers and politicians, along with criminal characters.

One of his best remembered parts was as the arrogant headmaster in "Scent of a Woman"…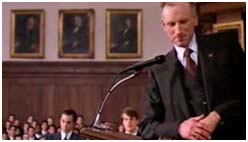 …opposite Al Pacino in Pacino's Oscar winning performance.
He also appeared with Pacino in "Carlito's Way" and appeared in other major films Like "My Cousin Vinny", Lorenzo's Oil", "Basic Instinct" and "The Talented Mr. Ripley."
He was also a familiar face on the small screen, playing the role of an abusive parent on both "The Guiding Light" and "As the Word Turns." He could even play it for laughs, like when he played the district attorney in the series finale of "Seinfeld".
Towards the final years on his career, he had a recurring role on the Showtime series "Homeland" as Carrie Matheson's father, Frank.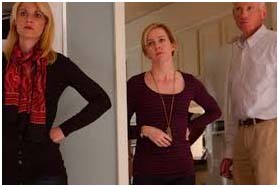 Both characters grappled with bipolar disorder.
James and his wife Rebecca Linn Rebhorn…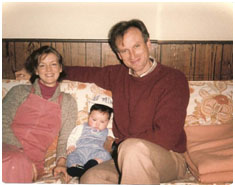 …had two daughters.
Diagnosed with skin cancer in 1992, he worked for another two decades before dying in his home at age 65.
And in a twist considering his screen persona, he wrote his own obituary. In it he recognized the influence his parents' played in shaping his life and added that without his wife and daughters, "his life would have been little more than a vapor."
He urged his daughters to mourn him only as long as necessary, because they had a lot of good work to do and that they should get busy doing it. James Rebhorn, saying he was fortunate to earn his living doing what he loved, concluded that he was a lucky man in every way.