Famously Dead A-Z:

Cause of Death:
View information about Jackie Gleason's death here on famously-dead.com. You can view information about Jackie Gleason's death and other famous deaths. You can view by name or by cause of death. We also have included the most popular famous deaths.
Jackie Gleason's Death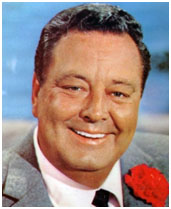 Jackie Gleason
Comedian, Actor, Musician
February 26, 1916
June 24, 1987
Cancer
The life and death of Jackie Gleason:
This American comic created a pioneering TV character that's still beloved in reruns around the world. That character formed the base for an animated cartoon character that's also stood the test of time. But Jackie Gleason was more than just a funnyman. He hosted a successful variety show, starred in dramatic and comedic movie roles and even led a jazz orchestra, producing a series of record albums.
John Herbert Gleason was born in Brooklyn in an Irish American family. His father Herbert was an insurance auditor who abandoned the family. His mother Mae then worked as a subway booth attendant to support them. (A brother died as a teenager of spinal meningitis.)
When Jackie's mother died of sepsis, he was 19 years old, left alone in the world and was completely broke. The family of a friend offered to take him in, but Gleason moved to Manhattan with an aspiring comedian who told Jackie about a comedy gig paying $19 a week.
"Jackpot", thought Jackie. He got the gig and it was his first professional appearance, in Reading, Pennsylvania. And he never looked back.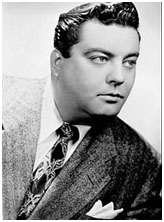 He started making club appearances in New York as an insult comic and was signed to a move contract by Jack Warner for $250 a week in 1940. Jackie appeared in several movies with no great success and had the lead role in "The Life of Riley" radio show, but couldn't take the part when the series moved to TV and William Bendix had a five year run as its star.
Brooklyn was the home of his most famous character, Ralph Kramden…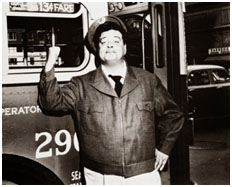 …who lived at the very same street address where Jackie grew up, 328 Chauncey Street. Ralph was a bus driver living in a tenement apartment with his snarky wife Alice (whom he often threatened to send to the moon)…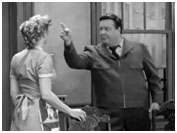 …and had his sewer worker neighbor and pal Ed Norton.
The show was "The Honeymooners" and it was a fan favorite from 1951-1955, first on DuMont Television and later moving to on CBS Television.
A few years later, Fred Flintstone was based on Jackie's Ralph Kramden character.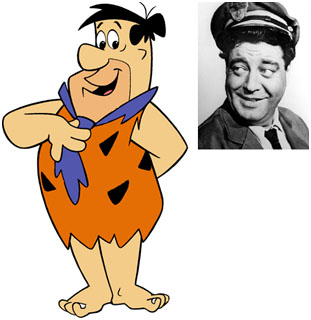 And then, Jackie hosted a Saturday night variety show…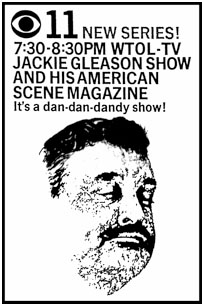 …getting help from comic Frank Fontaine, and his character Crazy Guggenheim.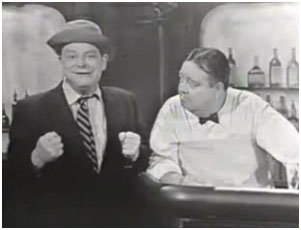 But Jackie could also act, starring as Minnesota Fats in "The Hustler", opposite Paul Newman, for which Jackie was nominated for Best Supporting Actor at the Academy Awards.
He also appeared with Burt Reynolds in the "Smokey and the Bandit" films, as the incompetent sheriff Buford T. Justice.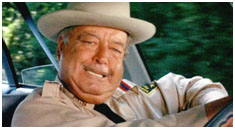 Jackie added several phrases to the American language. In addition to "to the moon", there was "And Away We Go" and "How Sweet It Is'.
That last one graced a road sign welcoming drivers to Brooklyn.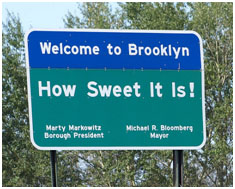 Jackie also lent his name to a series of "mood music" albums for Capitol Records in the '50's and 60's.

Jackie married Genevieve Halford in September 1936 and they had two daughters, amidst a stormy relationship because Jackie liked to do the town at night. His daughter Linda is the mother of actor Jason Patric.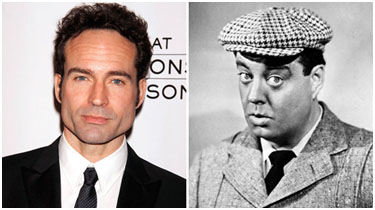 Yes - he's Jackie Gleason's grandson.
After Jackie and Genevieve divorced in 1970, Jackie married Beverly McKittrick when the ink was barely dry on the divorce decree. They divorced in 1975. His third wife Marilyn Taylor married him In December, 1975 and survived Jackie when he died.
Jackie didn't like flying and didn't like rehearsals either – reading a script once and going live. If he made a mistake, he blamed the cue cards. Gleason also had a reputation as a prodigious drinker and was a lifetime smoker who'd often go through four packs a day.
Gleason was diagnosed with both liver and colon cancer and other ailments and died of colon cancer at his Florida home. He's buried in a mausoleum at Miami's Our Lady of Mercy Catholic Cemetery.
It carries one his famous phrases.

And statue of Jackie Gleason as Ralph Kramden is posted at the Eighth Avenue entrance of New York City's Port Authority Bus Terminal.