Famously Dead A-Z:

Cause of Death:
View information about David Carradine's death here on famously-dead.com. You can view information about David Carradine's death and other famous deaths. You can view by name or by cause of death. We also have included the most popular famous deaths.
David Carradine's Death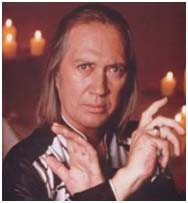 David Carradine
Actor, musician
December 8, 1936
June 3, 2009
Autoerotic Asphyxiation
He had a turbulent personal life, both as a child and an adult and appeared in hundreds of films for movie theatres and television. Best remembered for a long-running network television hit in the 1970's, his death was especially ironic, because - as a child - he survived an attempt to kill himself in a similar way.
David Carradine was born John Arthur Carradine in Hollywood, California, the oldest son of actor John Carradine and his wife, Ardanelle McCord.

His father divorced and remarried several times, and David's half-brothers, Bruce, Keith and Rob also went on to acting careers. David had no less than five wives himself!
Known as Jack as a child, David (professionally) had several brushes with the law related to substance abuse. And he even risked problems with the Army when he was accused of dodging the draft in 1960, and faced court martial for shop-lifting once he was inducted. (He was eventually honorably discharged after a two-year tour.)
Professionally, he appeared in dozens of television roles, including appearances on stalwart series like "Gunsmoke", "The Virginian", "Night Gallery", "Ironside", "North and South" and "Matlock." But his most memorable character was Kwai Chang Caine in the hit ABC-TV series, "Kung Fu".
Carradine had some memorable movie appearances too, like "Bound for Glory", in which he received a Golden Globe nomination for his dramatization of the life of folk singer Woody Guthrie. Other film hits included "Boxcar Bertha" and "Kill Bill."
David was also an accomplished singer and musician, playing the piano, guitar and flute, among other instruments. And he even had a role in directing, including three episodes of "Kung Fu'.
David survived an attempt to commit suicide by hanging himself at the age of five. His father John saved him. But there was no one there to save him in June 2009 when he was found dead – hanging naked by a rope - in a hotel in Bangkok, Thailand.
Originally called suicide, it was later updated to be a case of autoerotic asphyxiation, in which he hanged himself while performing a lone sex act.
Several movies still in post-production were released after his death. And many of Hollywood' big names gathered to pay their final respects.
David Carradine is buried in a bamboo casket at Forest Lawn Memorial Park in Los Angeles.