Famously Dead A-Z:

Cause of Death:
View information about Corey Haim's death here on famously-dead.com. You can view information about Corey Haim's death and other famous deaths. You can view by name or by cause of death. We also have included the most popular famous deaths.
Corey Haim's Death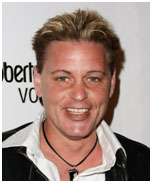 Corey Haim
Actor
December 23, 1971
March 10, 2010
Pneumonia
The life and death of Corey Haim:
He was a teen idol in the 1980's, starring in a number of films. And his movie collaborations with Corey Feldman created a cottage industry of sorts, with "The Two Coreys" cable reality shows on the A&E network. However, his early success meant money, fame and a drug addiction, dying at the age of 38 after a bout with pneumonia.
Corey Ian Haim was born in Toronto, Canada in a Jewish family. His mother Judy was an Israeli born data processor. His father Bernie worked in sales. His parents divorced when Corey was eleven and he had an older sister, Carol, and a younger half-brother, Daniel.
Raised in Willowdale, Toronto, he took drama lessons as a boy and also played hockey. He started to make his mark as a child actor.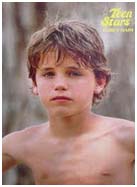 Cory's film debut came in 1984's "Firstborn" in which he starred with Sarah Jessica Parker and Robert Downey Junior.
Other films included: "Silver Bullet", "Murphy's Romance", "Lucas", "License to Drive" and "Dream a Little Dream".

His best known role was with Corey Feldman in "The Lost Boys".
"The Lost Boys" is highly regarded as a 1980's classic and Haim's performance earned him a Young Artist Award nomination as Best Young Male Superstar. The Two Coreys were the highest paid teen stars of the 1980's.
Cory's first of fifteen stints in drug rehab came in November, 1989. As his drug problems continued, he started losing his core audience as his performances suffered. And as stories of his drug abuse spread, Haim's public standing sank.
Haim never married, although he was linked with actress Alyssa Milano of "Who's the Boss" TV fame.

Her parents tried, unsuccessfully, to get Corey help for his addiction.
He was engaged to actress Nicole Eggert from TV's "Baywatch"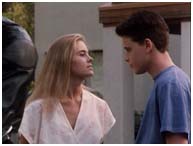 …with whom he appeared in 1992's"Blown Away". She's credited with helping to save his life by taking him to a hospital and detox when he was having a drug induced rush.
A 1995 relationship with Spice Girl Victoria Adams (later Beckham)…

…fizzled.
In 2013, Corey Feldman wrote a memoir detailing the sexual abuse he and Haim suffered in the film industry.
In 2011, Feldman claimed that a Hollywood big-wig who abused Haim could be blamed for his death.

In the months leading to his death, Corey shared a Burbank apartment with his mother Judy.
On March 10, 2010, his mom called 9-1-1 and paramedics rushed Corey to a local hospital where he was pronounced dead at age 38. Police said it appeared to be an accidental overdose but no illegal drugs were found. In fact, Haim had been ill with flu-like symptoms in the days before he died and the Los Angeles coroner ruled his death was caused by pneumonia.
Corey Feldman says Haim died destitute and alone. A private Jewish funeral was held in Thorn Hill, Ontario, attended by both of his parents and some 200 family and friends. Feldman stayed away to minimize publicity.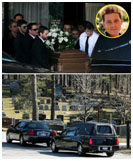 In May, 2010, the coroner said his death was from natural causes.
He's buried at Pardes Shalom Cemetery in Maple, Ontario, Canada.