Famously Dead A-Z:

Cause of Death:
View information about Carole Lombard's death here on famously-dead.com. You can view information about Carole Lombard's death and other famous deaths. You can view by name or by cause of death. We also have included the most popular famous deaths.
Carole Lombard's Death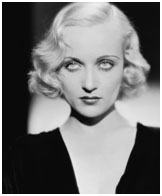 Carole Lombard
Actress
October 6, 1908
January 16, 1942
Plane Crash
The life and death of Carole Lombard:
She was one of the biggest stars in film in the 1930's, known for her roles in screwball comedies – a new genre of humorous "battle of the sexes" movies, in which the female star dominates her relationship with the leading male character, whose manliness is challenged. By the end of the decade she was knocking down half a million a year in Depression-era dollars, making her Hollywood's highest paid star.
However, Carole Lombard died at the age of 33, while trying to help the U.S about a month after the start of World War II, in a plane crash while returning from a War Bond tour.
She was born Jane Alice Peters in Fort Wayne, Indiana and lived a comfortable childhood, the third child of Frederick Peters and Elizabeth Knight Peters, who both came from wealthy families. She had two older brothers, Frederic and Stuart.
But her parent's marriage was rocky and in October 1914, her mother took her and her brothers and moved them all to California. While her parents didn't divorce, their separation was permanent. Her father continued to support the family and they were far from destitute living in an apartment near Venice Boulevard in Los Angeles, though not quite as wealthy as they were in Indiana.
One biographer described young Jane as a tomboy, involved in a lot of sports - playing tennis, volleyball and participating in swimming - and winning trophies for her athletic achievements.
She also liked watching movies and attracting the attention of a film director who saw her playing baseball with a group of boys and outperforming them. That led to her first movie role as a 12 year old, in "A Perfect Crime".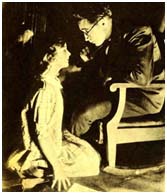 She loved the experience, so Jane and her mother went looking for more movie work. She failed several auditions but when she was 15 and serving as queen in her high school's carnival, she was scouted by one of Charlie Chaplin's employees and offered a screen test to appear in his film "The Gold Rush".
Carole didn't get the part but she was starting to make an impression in Hollywood. The Vitagraph Film Company offered her a contract with the stipulation that she change her first name from Jane, which they considered dull. So she picked Carol, after a middle school classmate.
In October 1924, the now 16-year-old Carol hooked up with Fox Films for $75 a week. Carol quit school and Fox decided they didn't like her last name so Jane Peters completed her metamorphosis from Carol Peters to Carol Lombard – the last name borrowed from a family friend. (The "e" added to Carol later when a mistake was made in movies credits and the now Carole decided she liked it.)
Her early roles in Fox movies were bit parts in low-budget films and she didn't care for them much and in her personal life, Carole embraced a flapper lifestyle…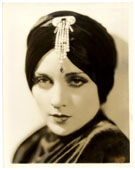 …winning several Charleston dance competitions at nightclubs like the Coconut Grove.
By March 1925, she landed a leading role in "Marriage in Transit", and her performance was well received. However, Fox didn't renew her one year contact and after a year's unemployment, she started doing slapstick roles for Max Sennett, known at the time as the "King of Comedy." Her popularity grew as one of the "Sennett Bathing Beauties" and she called her years with Sennett the turning point of her career.
In the late '20's, Carole was getting feature film roles and became a leading lady. By 1930 Lombard was back with Fox for the "Arizona Kid" and was recruited by Paramount Pictures for $350 dollars a week. It increased ten times that amount by 1936.
She made two films with William Powell…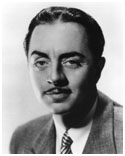 …Paramount's top male star. Carole had been one his fans, and attracted by his debonair style and good looks, they were soon in a relationship. They married in 1931 despite very different personalities, she being much freer spirited than he. Carole's career took a big jump after the wedding, but after 26 months of marriage in August 1933, Lombard and Powell divorced. At the time, Lombard blamed it on their careers but in a 1936 interview she conceded that they were just completely incompatible people.
Carole's career continued to skyrocket, and she showed off her dancing skills in "Bolero" with George Raft. Lombard also earned an Academy Award nomination for Best Actress in "My Man Godfrey", co-starring her ex-husband Powell, who insisted that she get the female lead role.
She'd met Clark Gable when they teamed on "No Man of Her Own" in 1932 and reunited at a Hollywood party, starting their romance in 1935.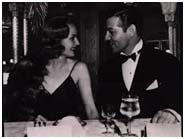 Gable was separated from wife, Rhea Langham…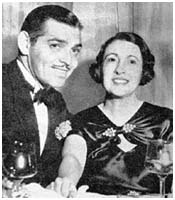 …and she refused to grant him a divorce. As Clark and Carole's relationship deepened, though, and helped along by a half million dollar settlement, the Gables divorced in 1939 and Clark and Carole eloped.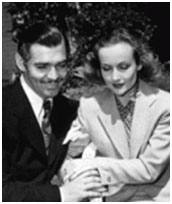 Both outdoorsy types, Carole and Clark bought a 20-acre ranch in Encino, California, complete with hunting trips and barnyard animals.
After the United States entered World War II at the end of 1941, Lombard traveled back to her childhood home to Indiana a few weeks later for a War Bond rally with her mother, Bess Peters and Gable's press aide Otto Winkler.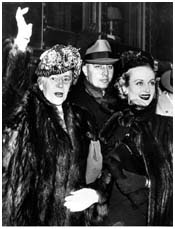 She raised more than two million dollars in one day. On January 16, 1942 Lombard, her mother, Winkler and several others boarded a transcontinental TWA flight for the ride back to California. After refueling in Las Vegas, they resumed the trip but less than a half hour later, the plane crashed near Mount Potosi. All 22 aboard we killed instantly, including Carole Lombard.

The following is a trailer for a book entitled "Fireball", which provides a look at Lombard's life and her death in the crash of TWA Flight 3 west of Las Vegas, in January, 1942.
A grief-stricken Clark Gable flew to Las Vegas after learning of the tragedy, to bring home the bodies of his wife, mother-in-law and Winkler. Carole Lombard's funeral was held January 21 at Forest lawn Park Memorial Cemetery in Glendale, California. She was buried beside her mother under the name Carole Lombard Gable.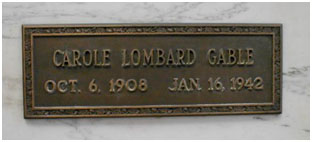 Clark then joined the U. S. Army Air Forces, as Carole had requested after the U.S entered the war. And a Liberty ship named the "SS Carole Lombard" was launched in January, 1944.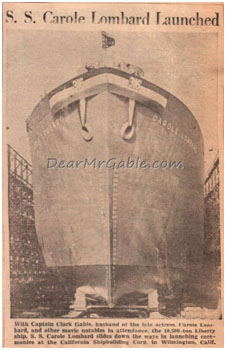 It memorialized her, in addition to the more traditional star on the Hollywood "Walk of Fame."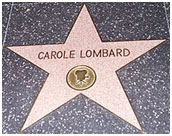 Even though he married twice more, Clark Gable chose to be buried beside Carole at Forest Lawn when he died in 1960.