Famously Dead A-Z:

Cause of Death:
View information about Burgess Meredith's death here on famously-dead.com. You can view information about Burgess Meredith's death and other famous deaths. You can view by name or by cause of death. We also have included the most popular famous deaths.
Burgess Meredith's Death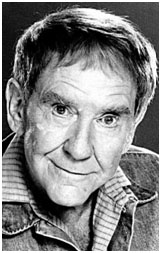 Burgess Meredith
Actor, Director
November 16, 1907
September 9, 1997
Complications from Alzheimer's disease, Melanoma
The life and death of Burgess Meredith:
His acting career ran more than sixty years and he portrayed a wide range of characters, winning several Emmy Awards and two Academy Award nominations.
Oliver Burgess Meredith was born in Cleveland, Ohio and he dropped his first name for professional purposes. He attended local schools and attended Amherst College, graduating in 1931.
He reached the rank of Captain in the U.S. Army Air Forces in World War Two and after the war, portrayed the famous war correspondent Ernie Pyle in "The Story of G.I. Joe."
His film career included parts in several films directed by the legendary Otto Preminger.
And he had some very memorable roles, appearing in a classic "Twilight Zone" episode, "Time Enough At Last" as Henry Bemis…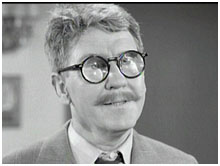 …an avid reader with poor vision who's the lone survivor when civilization ends.
Burgess played "The Penguin"…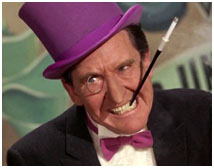 …in the campy, 1960's "Batman" series, starring Adam West as the Caped Crusader.
And movie theatre audiences will never forget his role as Mickey Goldmill, the grizzled old trainer in the "Rocky" movies.
In a 1994 autobiography, Meredith admitted that he sometimes suffered from violent mood swings because of a form of bipolar disorder.
He married four times; two of his wives were actresses Margaret Perry and Paulette Goddard, pictured with him here.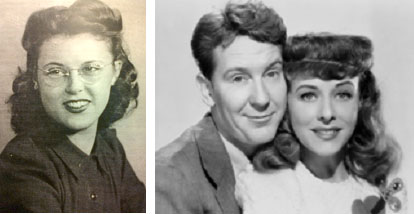 His last marriage to Kaja Sunsten…
…lasted 46 years and produced a son and a daughter.
Burgess Meredith was 89 years of when he died of complications from Alzheimer's disease and melanoma. His old co-star from the Batman series, Adam West, spoke at his memorial service.
His remains were cremated and he's honored on Hollywood's Walk of Fame.