Famously Dead A-Z:

Cause of Death:
How did Bruce Lee die? Here on famously-dead.com, you can view information about Bruce Lee's death and other famous deaths. You can view by name or by cause of death. We also have included the most popular famous deaths.
Bruce Lee's Death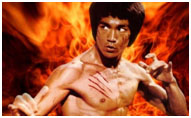 Bruce Lee
Actor
November 27, 1940
July 20, 1973
Allergic Reaction
The life and death of Bruce Lee:
He's considered the father of mixed martial arts, who rose to fame as a movie star. But he died young under mysterious circumstances.
Born Lee Jun-fan in San Francisco to parents from Hong Kong, he was raised in Kowloon, Hong Kong. His father was Cantonese opera star Lee Hoi-Chuen, who also was an actor.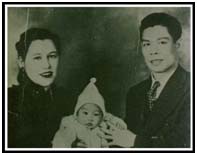 Bruce's mother, Grace Ho, was from one of the wealthiest and powerful families in Hong Kong.
Growing up in affluence, Bruce appeared in several films as a child actor…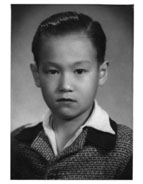 …but because he was involved in several street fights, his parents got him involved in martial arts, so he could protect himself.
Bruce returned to the United States when he was 18 to attend the University of Washington, where he majored in drama and learned dance.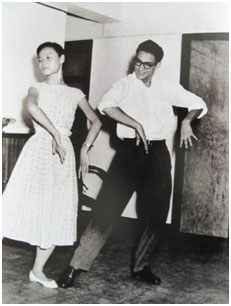 He started teaching martial arts in 1959 and raised the popularity of martial arts films.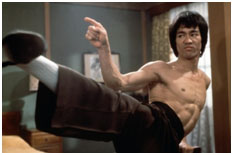 Some of his biggest successes included "The Big Boss", "Fist of Fury", ""Way of the Dragon", "Enter the Dragon" and "The Game of Death"
Bruce was also well known as Kato in the 1960's TV series, "The Green Hornet", co-starring Van Williams.
Bruce met his future bride, Linda Emery, at the University of Washington. They were married in August, 1964…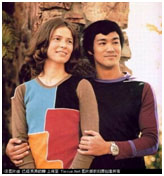 And had a daughter, Shannon and a son, Brandon…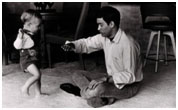 …who had his own film career as an adult.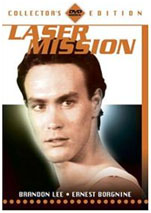 Brandon also had an early demise, dying at age 28.
Bruce was famous for his physical fitness regimen and paid a lot of attention to nutrition, eating health foods, high-protein drinks and mineral supplements. He also avoided baked goods and refined flour, saying they just added calories and did nothing for the body.
Despite the care he gave himself, Bruce was only 33 years old when he died in the summer of 1973, after collapsing in May on a studio set in Hong Kong while doing some post production work on "Enter the Dragon". He'd been suffering from seizures and headaches and was diagnosed with cerebral edema.
On July 20th complaining of a headache, he took a pain killer that combined aspirin and meprobamate, a muscle relaxant. When he retired for a nap, he never awoke. Autopsy reports say his brain had swollen and the cause of death originally was traced to an allergic reaction to the muscle relaxant. His official cause of death was listed as "death by misadventure."
Bruce was returned to Washington and is buried in Seattle's Lakeview Cemetery…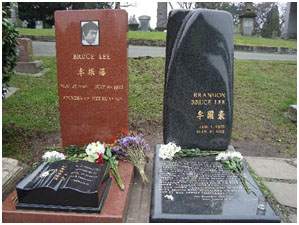 …where his son was later interred next to him.