Famously Dead A-Z:

Cause of Death:
View information about Anne Meara's death here on famously-dead.com. You can view information about Anne Meara's death and other famous deaths. You can view by name or by cause of death. We also have included the most popular famous deaths.
Anne Meara's Death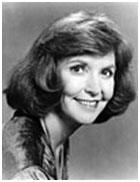 Anne Meara
Comedian, Actress
September 20, 1929
May 23, 2015
Unspecified, Believed to be Natural Causes
The life and death of Anne Meara:
She was a very funny and talented lady, part of an immensely popular 1960's comedy team with her husband Jerry. Even though their act later disbanded, they remained married for 61 years until she died. She went on to star in movies and TV roles, pursuing her true performing love of acting. And she was the mother of one of the most popular comic actors in the new millennium and had an actress daughter too.
Anne Therese Meara was born in Brooklyn, New York. Her parents Mary and Edward were of Irish ancestry. She was an only child and was raised in Rockville Centre, Long Island. Her mother committed suicide when Anne was 11 and Anne attended St. Agnes Academic School in Rockville Centre, right through the prom.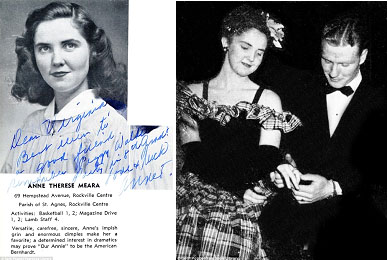 She began studying acting at the dramatic workshop of the New School in Manhattan when she was 18 and in the following year, 1948, she began her career as an actress in summer stock.
She met the actor-comedian Jerry Stiller in 1953 and they married the next year. She never thought of doing comedy until he suggested it.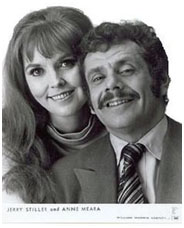 They became a team, joining an improv company called the Compass Players, which later became Second City and left to form their own comedy team, Stiller and Meara. Their act played up the fact that Jerry was Jewish and Meara was raised a Catholic. (She converted to Reform Judaism six years after marrying Stiller.)
They had a son, Ben, who went on onto a very successful acting career of his own…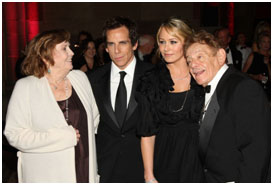 ...and had a daughter, actress Amy Stiller.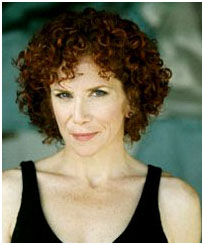 Stiller and Meara got their big break on the Ed Sullivan Show…

…and became frequent guests on that show, while also later appearing on the "Tonight Show starring Johnny Carson".
But their act as a comedy team declined because variety shows gradually disappeared. However, they remained successful in the 1970's, performing many radio commercials, like this one for Blue Nun wine.
Anne got a recurring role on the sitcom "Rhoda" as an airline stewardess named Sally Gallagher and earned an Emmy nomination for her role in a short lived 1975 CBS-TV series called "Kate McShane".
She also appeared on the sitcom "Archie Bunker's Place" in the early 1980s, along with guest appearances on "The Love Boat".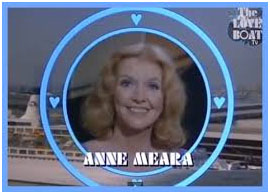 And she had a recurring role on HBO's "Sex & the City".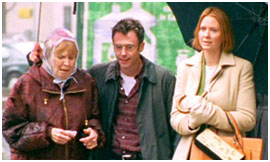 Anne Meara died at her California home at the age of 85, survived by Jerry, Ben, Amy and two grandchildren.