Famously Dead A-Z:

Cause of Death:
View information about Alan Rickman's death here on famously-dead.com. You can view information about Alan Rickman's death and other famous deaths. You can view by name or by cause of death. We also have included the most popular famous deaths.
Alan Rickman's Death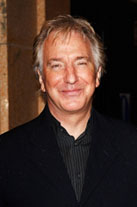 Alan Rickman
Actor
February 21, 1946
January 14, 2016
Cancer
The life and death of Alan Rickman:
He had a knack for playing intimidating characters in the movies, including Severus Snape in the Harry Potter film series.
Alan Sidney Patrick Rickman was born in London in a working class family. His mother Margaret was a homemaker and his father Bernard, a factory worker, died when Alan was eight. He had two brothers and a sister too.
Alan opened a successful graphic design studio, because he was great at calligraphy and watercolor painting. But after three years, Alan decided to go into acting.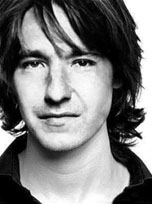 He attended London's Royal Academy of Dramatic Art and performed in modern and classical stage production as a member of the Royal Shakespeare Company. He played a wide variety of roles as his career was on the rise, including Rasputin in an HBO biopic.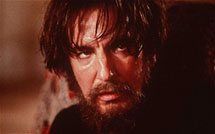 But he really hit the big time as the villain Hans Gruber in the Bruce Willis movie "Die Hard."
Although he bristled at the idea of being typecast as a villain, he won critical acclaim for his portrayal as Severus Snape in the final installment of the Potter series, Harry Potter and the Deathly Hollows, Part 2.
He met Rima Horton as a 19 year old in 1965 and they lived together from 1977 until his death.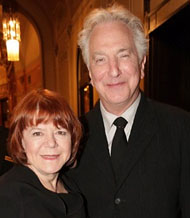 He confirmed they were married in 2012.
In the summer of 2015, Rickman suffered a minor stroke and was diagnosed with pancreatic cancer. He hid the fact that he was dying and time ran out in a London Hospital, a cancer victim roughly a month shy of his seventieth birthday.