Famously Dead A-Z:

Cause of Death:
View information about Adam West's death here on famously-dead.com. You can view information about Adam West's death and other famous deaths. You can view by name or by cause of death. We also have included the most popular famous deaths.
Adam West's Death

Adam West
Actor
September 19, 1928
June 9, 2017
Cancer
The life and death of Adam West:
He had a career that spanned seven decades, mainly in minor movie and television roles until he was given the lead in a campy, 1960's TV series in which he defined a superhero character. He came to despise it but then later realized it was the best thing that ever happened to him.
He was born William West Anderson in Walla Walla, Washington. His mother sang opera and played concert piano but gave up her own career plans to raise her family. His dad was a farmer. His parents divorced and when William was 15 he moved to Seattle with his mom.
He graduated with a degree in literature from Whitman College in Walla Walla and, when drafted into the Army, worked as an announcer on the Armed Forces Radio Network. After serving his military stint he left for Hawaii, for a career in TV and got a gig on a kid's show. He also adopted his stage name Adam West.
By 1959, he moved back to the mainland, to Hollywood, and started as a serious actor with a minor role in the movie "The Young Philadelphians", featuring Paul Newman.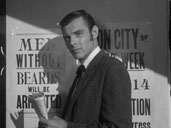 That was followed by appearances in various TV westerns and a role in the last feature length movie starring The Three Stooges.
But his claim to fame was in the 1966 TV series Batman, that ran on ABC TV. Co-starring Burt Ward as Robin…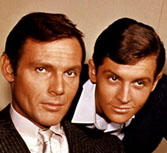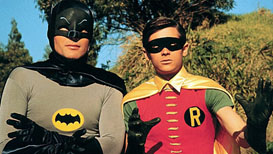 It was an offbeat treatment of the character with cartoonish "Pow" and "Wham" filling fight scenes.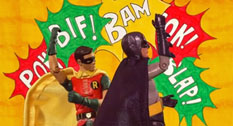 And in some ways, he defined the role of Batman, even though several other actors played it in feature length films in later years.
West didn't like being typecast as Batman but later came to realize that it did put him on the map and he was able to appear in other offbeat comedy type programs, like "The Simpsons" and "Family Guy" …playing fictional characters based on himself.
Adam married three times. He and Billie Lou Yeager married in 1950…
…but split in 1956. His 1957 marriage to Ngahra Frisbie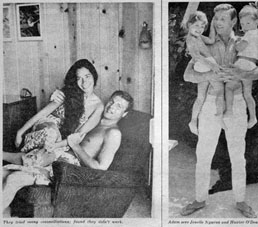 …ended in divorce five years later, but produced two children. His third marriage came in 1971 to Marcelle Tagand Lear…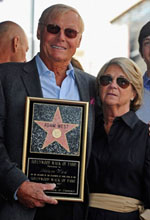 …and they also had two kids, Nina and Perrin.
Adam was suffering from leukemia when he died at the age of 88 in Los Angeles.