Famously Dead A-Z:

Cause of Death:
View information about Will Rogers's death here on famously-dead.com. You can view information about Will Rogers's death and other famous deaths. You can view by name or by cause of death. We also have included the most popular famous deaths.
Will Rogers's Death
Will Rogers
Actor, Humorist, Social Commentator
November 4, 1879
August 15, 1935
Plane Crash
The life and death of Will Rogers:
He was one of the best-known celebrities of the 1920's and 30's - world famous in his day for his work as a humorist, social commentator, actor, radio personality and newspaper columnist. And it was at the height of his fame that he died in a plane crash with famous aviator Wiley Post, when their small airplane crashed in Alaska - his eventual burial place.
William Penn Adair Rogers was born to a prominent Cherokee nation family in Indian Territory, now part of Oklahoma, near present day town of Oologah. He was the youngest of eight children. Will's Mary died when he was only 11 and Will had a strained relationship with his father Clement. His dad was a leader within the Cherokee society and Rogers County Oklahoma is named in honor of Clement Rogers.
Will was a good student and an avid reader but he dropped out of school after the 10th grade. He was much more interested in cowboys and horses and set out to learn how to rope and use a lariat.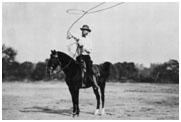 Rogers and a friend left home to work as gauchos (cowboys) in Argentina, arriving there in May, 1902. He returned to the United States and began work in show business as a trick roper in a circus. That in turn led to his vaudeville career, which led to his debut in film.
Rogers' movie career began in 1918 and made more than 70 films, 50 of them silent and the rest talkies.
By the mid-30's, Rogers was Hollywood's top-paid star.
He also had a syndicated column in the "New York Times" and wrote frequently for the "Saturday Evening Post."
Rogers traveled the country for lecture tours and gained attention as the common man philosopher, speaking on many topics and offered many famous quotes.

Rogers was also a noted voice on Radio, doing many radio broadcast for the Gulf Oil company from 1932-1935.
Politically, Rogers was a staunch Democrat and a big supporter of Franklin Delano Roosevelt. He traveled around the world three separate times, despite being a family man. Will married Betty Blake in 1908 and they had four children: Will Rogers Junior, Mary, James Blake and Fred Stone.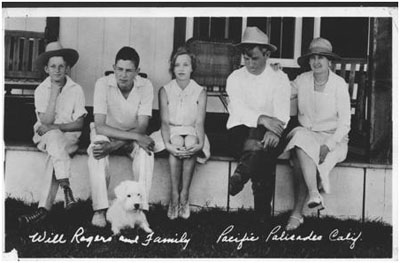 Mary died in 1944.
Rogers was also a big believer in the Aviation industry.
In 1935, famed aviator Wiley Post…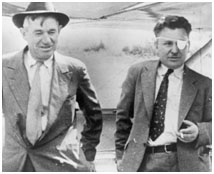 …his fellow Oklahoman, wanted to survey mail and passenger air routes from the West Coast of the United States to Russia. Will hitched a ride with him on a plane headed for disaster.
Post had slapped together parts from two different kinds of Lockheed planes. The floats that Post had ordered for his aircraft did not arrive in time, and he used a set that was not designed for the plane in question. The floats made it nose heavy.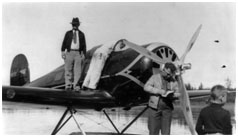 While flying in Alaska, they were a few miles of their destination of Point Barrow when bad weather forced them to touch down in a lagoon, to get a better reading on where they were.
As they took off, their engine quit at low altitude and the plane dove into the lagoon shoeing, tearing off the right wing. It ended upside down in the water and both Will Rogers and Wiley Post were killed instantly.
Will Rogers remains an honored figure in Oklahoma, with the Will Rogers Memorial in Claremore; Will Rogers World Airport in Oklahoma City and 13 public schools named in his honor across the state.
In addition, US Route 66 is known as the Will Rogers Highway.
He also has a star on the Hollywood walk of fame.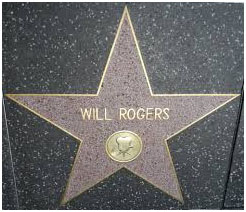 He's buried at the Will Rogers-Wiley Post Memorial in Barrow, Alaska.