Famously Dead A-Z:

Cause of Death:
View information about Tim Russert's death here on famously-dead.com. You can view information about Tim Russert's death and other famous deaths. You can view by name or by cause of death. We also have included the most popular famous deaths.
Tim Russert's Death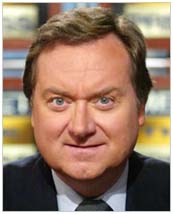 Tim Russert
Television Journalist
May 7, 1950
June 13, 2008
Heart Attack
There are newscasters and then there are television journalists. Tim Russert was a television journalist (with a background as a lawyer) who appeared for more than 16 years as the moderator of NBC's Meet the Press, a record run for that program. He was also the senior vice president at NBC News' Washington bureau. And he died of a massive heart attack, doing what he loved in his office at NBC.
Tim was born in Buffalo, New York the son of Timothy Joseph" Big Russ" Russert, (a sanitation worker and World War II vet who held down a couple of jobs) and Elizabeth Steely, a homemaker. They had four children. Tim was born second and had three sisters. His parents were married 30 years before separating in 1976.
Tim did his undergraduate work at John Carroll University and studied law at Cleveland State University and Cleveland Marshall College of Law.
Before becoming a host of Meet the Press, he worked as a special counsel and later Chief of Staff to U.S. Senator Daniel Patrick Moynihan, the New York Democrat. And Tim became counsel to New York Governor Mario Cuomo in 1983.
But by 1988, Russert was hired by NBC News' Washington Bureau and became bureau chief in 1989. And he became the regular host of Sunday morning's Meet the Press in 1991.
Known for his sharp, incisive interviews, TIME Magazine named Russert one of the 100 most influential people in the world in 2008. Russert frequently moderated political campaign debates and was criticized for asking Hillary Clinton questions that he didn't ask Barack Obama in a February, 2008 Democratic Presidential debate, like who the new President of Russia was.
He married Maureen Orth in 1983. She worked as a special correspondent for "Vanity Fair and they had a son, Luke, who also worked for NBC News.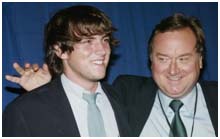 In 2004, Tim wrote a book a best-selling autobiography, "Big Russ and Me"…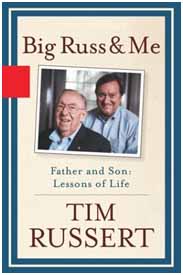 …talking about his upbringing in an Irish-American, working class neighborhood in Buffalo, emphasizing the importance of family values and faith and not cutting corners to achieve a goal.
In June 2008, on the afternoon of Friday the 13th, Russert collapsed at the offices of WRC-TV, which housed the NBC news bureau in Washington. He was recording voice tracks for the Sunday edition of Meet the Press. His colleague Brian Williams said Russert's last words were a greeting… "What's happening?"…as he passed a coworker in the hallway. He then collapsed on his way to a recording booth.
A co-worker tried emergency CPR while paramedics were called and the rescue team tried defibrillation three times, but there was no response. Russert was transported to a nearby hospital where he was pronounced dead at age 58.
Other major broadcast and cable news organizations spent a lot of air time reporting about Russert's life and career.
But some journalists criticized it, saying that a print journalist would never have received that much attention.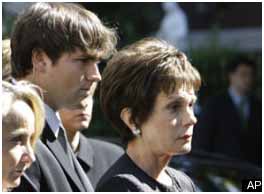 And Russert's DC funeral had some attendees passing out business cards and jockeying for good seating. One NBC air personality called it a new low, even for Washington.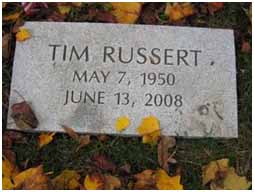 Tim Russert is buried at Rock Creek Cemetery in Washington, D.C.