Famously Dead A-Z:

Cause of Death:
View information about Sid Caesar's death here on famously-dead.com. You can view information about Sid Caesar's death and other famous deaths. You can view by name or by cause of death. We also have included the most popular famous deaths.
Sid Caesar's Death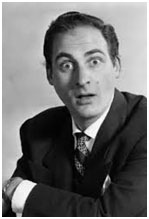 Sid Caesar
Comic – Television & Movies, Writer, Musician, Producer
September 8, 1922
February 12, 2014
Undisclosed illness at age 91
The life and death of Sid Caesar:
He was a pioneering comedian on television, whose comic take was the forerunner to a future generation's very popular "Saturday Night Live". He did it with an incredibly talented stable of writers who went on to make entertainment history on their own. Although he remained an active performer for six decades, his star faded in his later years but his huge early success cannot be denied and will always be remembered.
Sid Caesar is best remembered for his work on TV, in which he was a sketch artist, using body language, funny faces…

…crazy situations…

…and mangled foreign accents.
Isaac Sidney Caesar was born the youngest of three sons of Jewish immigrants in Yonkers. New York. His father Max was born in Poland, Sid's mother Ida came from Russia. The family name's derivation is something you may have seen in movie fiction. Max was said to have given the last name "Caesar" by an immigration official at Ellis Island.
The family ran an all-day, all-night luncheonette in Yonkers and Sid picked up accents while waiting tables. He worked up routines with the help of his older brother David.
At age 14, Sid went to New York's Catskill Mountains, playing saxophone in a swing band and occasionally performing in comedy sketches at the "Borscht Belt" resorts that were popular among vacationing Jewish families from New York City.
Sid left Yonkers after graduating from high school in 1939 and moved to Manhattan where he ushered and worked as a doorman at a Broadway movie palace, the Capitol Theatre. He also made money playing sax at a Catskills hotel. Also that year, Sid joined the Coast Guard and was stationed in Brooklyn, and played in military revues and shows.
He met his future wife, Florence Levy, in the summer of 1942 in the Catskills.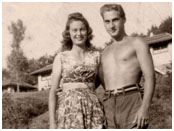 They married in 1943 and stayed together…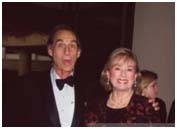 …until she died in 2010. They had three children…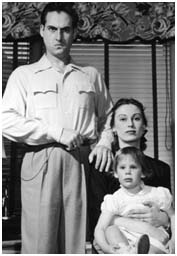 …daughter Karen (seen here in 1953)…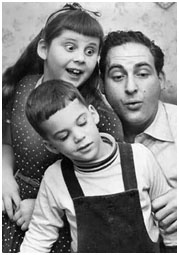 …and Michelle and Rick (photographed in 1956.)
While in the service, Sid did comedy bits in the "Tars and Spars" service revue and he got a great response. It was his first major job as a comedian.
The family moved to Hollywood in 1946 when the war was over, and Sid reprised his old role when a film version of "Tars and Spars" was made. He was also considered for the lead role in the "Al Jolson Story" (eventually filled by Larry Parks).
The Caesars returned to New York where Sid became an opening act the Copacabana nightclub for Joe E. Lewis. He began is legendary TV career with an appearance on Milton Berle's "Texaco Star Theatre" and by early 1949, was in talks to appear in a series of his own: the "Admiral Broadway Revue" with the woman who would become his legendary sidekick, Imogene Coca.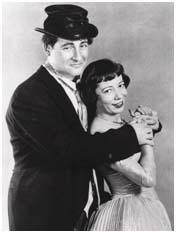 The Friday night show was aired on NBC and the Dumont network and was a big hit. The problem was, the sponsor Admiral, couldn't keep up with the demand for the new TV sets it was making and the show was cancelled.
But the seeds were sown and in February, 1950, Caesar and Coca were back for the debut of "Your Show of Shows", a 90 minute weekly program featuring big-name guests and pulling an audience of sixty million people. Here's Sid and Imogene in one of their skits.
Sid also did it with an all-star writing team, including filmmakers Mel Brooks, Woody Allen, playwright Neil Simon, TV's Carl Reiner, Mel Tolkin and Larry Gelbart, who created "M*A*S*H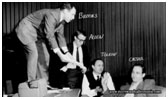 Allen called Sid "one of the truly great comedians" and Mel Brooks said Caesar was "a Giant, maybe the best comedian ever.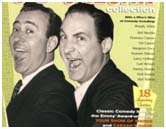 Carl Reiner used his experiences with Sid for material in "The Dick Van Dyke Show".
"Your Show of Shows" ran from February 1950 through June 1954, after 160 live episodes. Caesar and Coca broke up their act when the show ended and could never repeat that early success, even when they were re-teamed on a 1958 show called "Sid Caesar Invites You", which only ran for four months.
Sid's fading TV success coincided with a twenty year addiction to pills and alcohol. However, he did continue working, earning a Tony Award Nomination for his starring role in Neil Simon's Broadway musical "Little Me" in 1962.
He was also active in film, with a role in the 1963 comedy "It's a Mad, Mad, Mad, Mad World."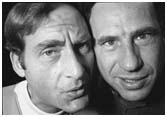 His old buddy Mel Brooks (who Sid once dangled from an 18th floor window before being restrained) cast him in "Silent Movie" (1976) and "History of the World, Part 1" (1981).
By the late 70's, Sid overcame his substance abuse. In 1977, he quit booze cold turkey after blacking out on stage during a performance of Neil Simon's "The Last of the Red Hot Lovers."
In 1978 he played Coach Calhoun opposite John Travolta in "Grease".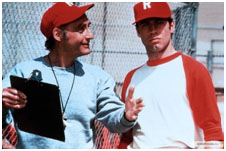 Sid was in poor health for at least a year…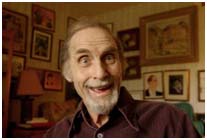 ...although he did continue to receive visitors to reminisce and tell jokes. He died in his Beverly Hills home.
Sid Caesar was eleven time Emmy Award nominee, winning twice and was given a star on the Hollywood "Walk of Fame" in 1960.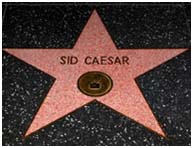 His fans used it to memorialize him after he died.