Famously Dead A-Z:

Cause of Death:
View information about Rodney Dangerfield's death here on famously-dead.com. You can view information about Rodney Dangerfield's death and other famous deaths. You can view by name or by cause of death. We also have included the most popular famous deaths.
Rodney Dangerfield's Death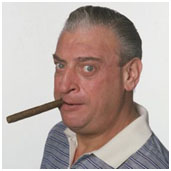 Rodney Dangerfield
Comedian
November 22, 1921
October 5, 2004
Heart disease
The life and death of Rodney Dangerfield:
His tag line was "I never get any respect." And in the early years of his entertainment career, that was truly the case. In fact, he gave up the stand-up comedy business to sell aluminum siding, so he could support his wife and two kids. But when he decided to try it again, he found an image to play off and hit it big on TV, film and records.
He was born Jacob Rodney Cohen in Deer Park, Long Island, about forty miles east of New York City. His father Phillip was a vaudeville performer known at Phil Roy and absent most of the time, often seeing his son only twice a year. Years later, young Jacob accepted his father's apology for that.
He and his mother Dotty and his sister eventually moved to Kew Gardens, Queens and Jacob graduated from Richmond Hills High School in 1939.
To help bring in some needed cash, he sold ice cream, newspapers and delivered groceries.
He started writing for standup comedians when he was 15 and started performing under the name Jack Roy when he turned 20.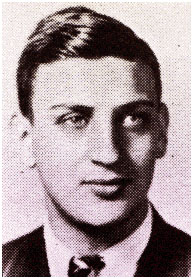 He struggled for nine years and when he quit taking a job in the siding business, he said he was so little known that he himself was the only one who knew he quit.
But he made a comeback from nowhere in the early 1960's, after divorcing his wife Joyce. He started playing gigs in the Catskills, with uneven success. But then he developed his Rodney Dangerfield, gets-no-respect, act and adopted the name from one used in show biz before by Jack benny and Rick Nelson .
Rodney hit the big time in 1967, a surprise fill-in act on the Ed Sullivan show.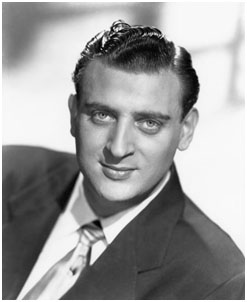 It was one of many appearances he made on that show, like this one in 1970.
He then started headlining in Las Vegas and started to make other TV appearances, becoming a regular on the Dean Martin show and a frequent guest on the tonight show, along with specials on HBO.
There was a Grammy winning comedy album, "No Respect" in 1980, featuring rapid fire jokes.
Now Rodney's career was peaking as he starred in full length movies, like"Caddyshack," "Easy Money" and "Back to School".

Rodney was married to Joyce Indig twice…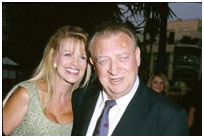 …and had two children, Brian and Melanie.
He started having heart problems in 2001, the first a mild heart attack while backstage at the "Tonight "show. By spring, 2003, he underwent brain surgery to improve his blood circulation in preparation for a heart valve replacement operation in August 2004.
But in September of 2004, it was reported that Rodney had slipped into a coma and he died in early October from complications from his surgery. He was just shy of his 83rd birthday.
Rodney buried at Westwood Village Memorial Park Cemetery in Los Angeles. His headstone's a monument to his self-deprecating humor.