Famously Dead A-Z:

Cause of Death:
View information about Keith Jackson's death here on famously-dead.com. You can view information about Keith Jackson's death and other famous deaths. You can view by name or by cause of death. We also have included the most popular famous deaths.
Keith Jackson's Death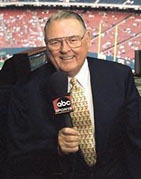 Keith Jackson
Sportscaster
October 18, 1928
January 12, 2018
Undisclosed
The life and death of Keith Jackson:
He was a familiar voice to generations of American sports fans, with a six-decade career reporting and doing play by play for Major League Baseball, professional and college football and college basketball. And he did it with style, remembered for his famous catch phrase "Whoa Nelly!"
Born Keith Max Jackson in Rockville, Georgia he was the only surviving son of a dirt farmer and his wife. Young Keith grew up listening to sports on the radio.
He served as a mechanic in the Marine Corps and later attended Washington State University, where he studied political science. But then he became more interested in broadcasting, graduating in 1954 with a degree in speech communications.
Keith began his career as a broadcaster calling radio games between Stanford and Washington State in 1952. He then moved on to work for KOMO radio in Seattle moving on to their sister TV station a few years later.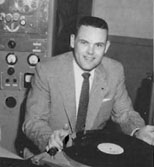 He really the big time as a radio news correspondent for ABC in 1964, but that was after helping Walter Cronkite cover the 1964 Republican National Convention in San Francisco for CBS.
When the American football league was formed in the early 1960s. he became a play by play guy for AFL games and later became the first play by play announcer for NFL Monday Night Football on ABC-TV. He was later replaced by Frank Gifford.
But Keith was very versatile and helped ABC cover the 1972 summer Olympics, which were marred by an attack by Palestinian terrorists. In all, Jackson covered 10 Summer and Winter Olympic games.
Keith has also the voice of Major League Baseball on ABC and covered the tense, 16 inning National League playoff game six between the New York Mets in Houston Astros in 1986. He also worked World Series games in 1977, '79 and 1981.
Starting in 1987, he became the only play by play man on ABC's coverage of college basketball teaming up with analyst Dick Vitale until 1992.
But Keith Jackson is best remembered for his coverage of college football.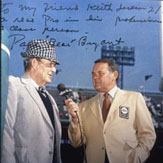 And in his many years, Keith was paired with many color commentators as he covered 16 Sugar Bowls and 15 Rose Bowl Games during his tenure with ABC.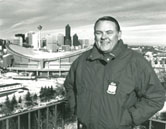 To honor him, the radio and TV booths at the Rose Bowl Stadium were renamed the Keith Jackson Broadcast Center in 2015.
Keith was inducted into the Rose Bowl Hall of Fame and the American Sportscasters Association Hall of Fame. Even appeared on TV playing in acting roles, sometimes as himself.
He later explained in an interview where his famous catch phrase came from.
The boy who grew up on a Georgia dirt farm and ended up a longtime resident California. He and his wife, the former Turi Ann Johnsen, had three children.
Keith Jackson died at the age of 89, he lived in the Sherman Oaks section of Los Angeles.