Famously Dead A-Z:

Cause of Death:
View information about Jim Henson's death here on famously-dead.com. You can view information about Jim Henson's death and other famous deaths. You can view by name or by cause of death. We also have included the most popular famous deaths.
Jim Henson's Death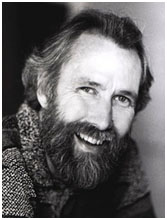 Jim Henson
Television, Movies
September 24, 1936
May 16, 1990
Toxic Shock Syndrome
The life and death of Jim Henson:
He was a master puppeteer and his creations became legendary to generations of children through educational television, entertainment TV and the movies. Sadly, this man who gave so much joy to the young died early, his untimely death resulting from organ failure from a streptococcal infection.
James Maury Henson was born in Greenville, Mississippi and raised as a Christian Scientist in nearby Leland, Mississippi before his family moved to Hyattsville, Maryland. As a child, he was a fan of radio ventriloquist Edgar Bergen and Kukla, Fran and Ollie, the early TV puppets of Burr Tillstrom.
He began developing puppets while he was in high school, a modest start to set the stage for his career as a puppeteer, cartoonist, voice actor, inventor, screenwriter, film director and producer.
In 1954, while still a high school student, he created puppets for a Saturday morning kid's show, "The Junior Morning Show." And as a freshman at the University of Maryland College Park, he created a five-minute puppet show that appeared on TV called "Sam and Friends." The characters on that show were the predecessors of the Muppets, including the prototype of Jim's most famous character, Kermit the Frog.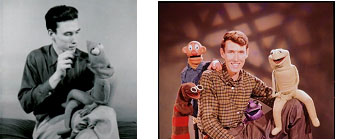 While working at WRC TV in Washington from 1954-1961, he also worked on a magazine show for housewives and started his collaboration with Jane Nebel…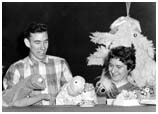 …whom he married in 1959. They had five children: Lisa, Cheryl, Brian, Jon and Heather.
Henson's puppets were different from the Howdy Doody's of the world. He made them with a fabric covered foam rubber, to allow them have a wider range of emotions than puppets made out of wood. He also used precise mouth movements to match the dialogue.
After graduating Maryland with a degree in home economics, Jim produced commercials, talk shows and children's shows. He later founded a company called Muppets Incorporated, which later would become the Jim Henson Company.
Sam and Friends friends ran for six years but Henson spent almost 20 working on other projects before the Muppets really hit it big. Fame came in the 1970s when he joined the Children's Television Workshop's "Sesame Street", developing characters for the series.
His famous creations included Kermit the Frog, who Jim gave voice to until his death.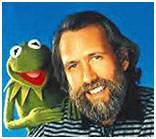 Another Muppet star was the porcine diva, Miss Piggy Lee…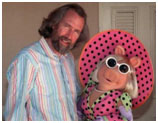 …along with Bert and Ernie, Oscar the Grouch, Cookie Monster and Big Bird. He also performed characters like Ernie, the game show host Guy Smiley and, of course, Kermit, as a roving TV reporter.
As the years went on Jim's family of puppets grew and grew.

With the help of Frank Oz, "The Muppet Show" hit commercial TV screens in 1976.
Three years after "The Muppet Show's" debut, the first theatrical feature film "The Muppet Movie" was released, with Jim as Kermit singing "The Rainbow Connection". The song hit number 25 on the Billboard Hot 100 and was nominated for an Academy Award in 1981.
Some of Henson's later projects included "Fraggle Rock" and "Muppet Babies."
Although raised as a Christian Scientist, fifteen years before he died he informed the church he was no longer a practicing member and his family denied later that his faith did not stop him from going to the hospital when he became ill in 1990.
Jim began to experience flulike symptoms after making an appearance on the Arsenio Hall Show on May 4, 1990, which turned out to be one of his final TV appearances and the very last TV time he performed as Kermit the Frog. Jim told his publicist that he was tired and had a sore throat, but was confident it would go away.
By May 12th, feeling tired and ill, he consulted a doctor in North Carolina who couldn't find evidence of pneumonia or anything else and prescribed only aspirin. Jim returned to New York but cancelled a Muppet recording session scheduled for May 14.
His wife Jane, from he was separated, visited him but on the evening of May 15th, Jim was having trouble breathing and started coughing up blood. He suggested that he might be dying, but didn't want to go to the hospital. Jane later told People magazine that was likely due to his desire not to be a bother to people.
Two hours later, he agreed to be admitted to New York Hospital but couldn't breathe on his own anymore. A mechanical ventilator was attached to help him breathe and despite aggressive treatment with antibiotics he died the next morning at age 53. The cause was a bacterial streptococcus infection. Later it was reclassified as organ failure from toxic shock syndrome.
A public memorial service was conducted at the Cathedral St. John the Divine the New York City and another at St. Paul's Cathedral in London.
The suddenness of Henson's passing resulted in an outpouring of public and professional affection. Jim was cremated at Ferncliff Cemetery Mausoleum in Greenberg, New York. His ashes were scattered at his ranch in Santa Fe, New Mexico.
His daughter Cheryl later donated twenty of his famous characters…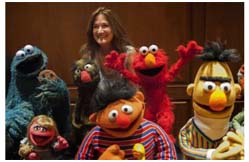 …to the Smithsonian's National Museum of American History.