Famously Dead A-Z:

Cause of Death:
View information about Jamie Coots's death here on famously-dead.com. You can view information about Jamie Coots's death and other famous deaths. You can view by name or by cause of death. We also have included the most popular famous deaths.
Jamie Coots's Death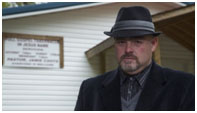 Jamie Coots
Reality TV star, Pastor
November 17, 1971
February 15, 2014
Poisoning
The life and death of Jamie Coots:
He who lived by the snake died by the snake. This Pentecostal preacher from Kentucky who reached a nationwide cable TV audience on a reality show was bitten several times by snakes, but always survived – even though he lost a finger in one case. However, a final bite on the hand proved fatal when he refused medical attention and went home instead of to a hospital.
Known as Pastor Jamie, Gregory James Coots was born in Middlesboro, Kentucky, the son of Gregory and Linda Turner Coots. He had a sister Katrina and a brother Timothy, but they – like his Mom – died before he did.
He worked as a school bus driver for the Middlesboro Independent Schools and was Pastor of the Full Gospel Tabernacle in Jesus Name Church in that town and regularly handled snakes in his services.

He and his family were featured on "Snake Salvation", a reality TV series on the National Geographic cable channel. The show focused on a group of believers in a Bible passage suggesting that those anointed by God won't be harmed by poisonous snake bites. Pastor Jamie said he needed the snakes for religious reasons.
Pastor Jamie's son Cody told reporters his dad had been bitten eight times before, but always survived.
However, Coots did lose half a finger to a snakebite. Here's what it looked like before the damaged portion fell off.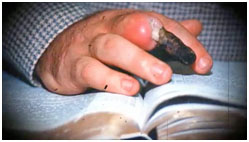 Pastor Jamie was once arrested for keeping 74 snakes in his house. In 1995, a woman died from a snake bite during one of his services. In January, 2013, Coots was given a year of unsupervised probation when he was caught transporting three rattlesnakes and two copperheads (all poisonous) through Knoxville, Tennessee and pleaded guilty to illegal wildlife possession. His snakes were confiscated by wildlife officials.
It all ended disastrously for him on a mid-February night. Pastor Jamie was handling a rattlesnake during Saturday evening services. The snake in plain view and within a second, according to an eyewitness, turned its head and bit Coots on the hand. When an ambulance arrived at the church at 8:30, emergency workers were told the Pastor had gone home.
The medics contacted him at the house, but Coots refused medical attention on religious grounds. They left at about 9:10 and when they returned an hour later, Coots was dead of a poisonous snake bite.
Colleagues hailed Coots as a martyr and said they'd continue handling snakes during services. His son Cody declared that praying with snakes is a valid religion, after his father died. Cody preaches and handles snakes too and said he wants to carry on his father's work.
Pastor Jamie is survived by his wife Linda, Cody and daughter Trina, granddaughter Sydney, his father Gregory and an extended family of aunts, uncles, cousins and parishioners. He was buried in a private ceremony.