Famously Dead A-Z:

Cause of Death:
View information about Jackson Pollock's death here on famously-dead.com. You can view information about Jackson Pollock's death and other famous deaths. You can view by name or by cause of death. We also have included the most popular famous deaths.
Jackson Pollock's Death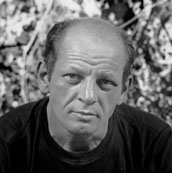 Jackson Pollock
Artist
January 28, 1912
August 11, 1956
Car Crash
The life and death of Jackson Pollock:
He was one of the greatest artists of his generation, well known for his innovative style of drip painting. But he had his demons, including a lifelong fight against alcoholism and, with what some later surmised, was bi-polar disorder. And he died young, at age 44, in a car wreck on the toney East End of Long Island, while driving under the influence
Paul Jackson Pollock was born in Cody, Wyoming and his father Leroy moved Paul, his mother Stella and his four older brothers to various parts of the country as he searched for work.
Paul was expelled from two different high schools while a teenager and in 1930 followed an older brother to New York and began studying art at the Art Students League. But these were the lean Depression years, and Pollock also worked for the WPA Federal Art Project
He got a break in 1943 when Peggy Guggenheim signed him to a gallery contract and two years later married artist Lee Krasner.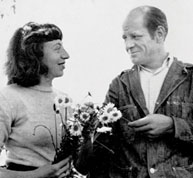 They moved to the Springs area in East Hampton, Long Island and set up in a wood frame house and barn.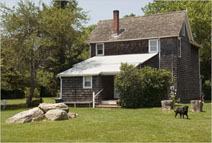 The barn became Pollock's studio

It was there he developed his "drip" technique, for which he's forever identified.

He assigned his works numbers, rather than titles or names.
Number 1, 1950 hangs at the National Gallery of Art in Washington. D.C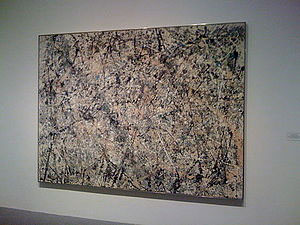 Time Magazine called him "Jack the Dripper" and his most famous paintings were created during that drip period between 1947 and 1950. And then, he just stopped using the drip technique.
His last two paintings came in 1956 and on a summer's night while driving drunk, he crashed his Oldsmobile convertible…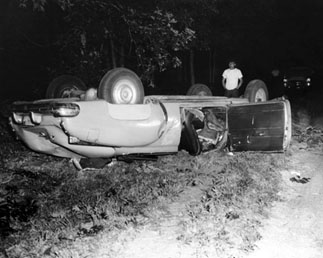 …killing him, passenger Edith Metzger and injuring his mistress Ruth Kligman. He and Kligman posed for this picture the day of the accident, and it was snapped by Metzger.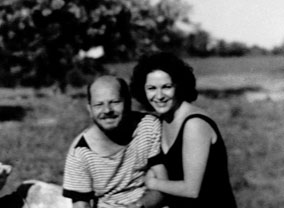 For the rest of her life, Lee Kranser managed his estate. The couple's buried in Spring, New York in Green River Cemetery, with two large boulders as markers, the larger one for Jackson.