Famously Dead A-Z:

Cause of Death:
View information about George Carlin's death here on famously-dead.com. You can view information about George Carlin's death and other famous deaths. You can view by name or by cause of death. We also have included the most popular famous deaths.
George Carlin's Death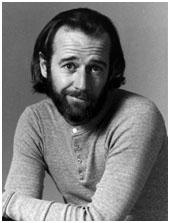 George Carlin
Comedian
May 12, 1937
June 22, 2008
Heart Failure
The life and death of George Carlin:
It isn't often that a standup comedy routine becomes the subject of a U. S Supreme Court ruling, but this guy managed to do it. George Carlin was one of the most important and influential of the counter culture comedians. His "Seven Dirty Words" routine was the basis for a Supreme Court ruling against Pacifica Foundation – a broadcasting concern – which underscored the government's power to regulate indecent material over the air.
George Denis Patrick Carlin was born in New York City, and attended a Catholic School in Morningside Heights and was enrolled in various Catholic High Schools. He joined the Air Force as soon as he was old enough and was a radar technician.

He started his career in radio, teaming with Jack Burns in Fort Worth, Texas in 1959. They then moved the act to California, working their comedy routine on a Hollywood radio station. George started appearing on network TV in the early 60's…and had several well-known routines, like this one about Top 40 disc jockeys.
There was also "The Indian Sergeant".
He was a frequent guest of "The Tonight Show", first with Jack Parr and then with Johnny Carson, doing routines like the "Hippy Dippy Weatherman".
However, by the 70's he changed his act to appeal to a younger, hipper audience. And his most famous routine, "Seven Words You Can Never Say on Television" led to the famous Supreme Court obscenity ruling. For more about that routine and George Carlin's arrest for performing that act.
He also appeared in movies, like "Outrageous Fortune" with Bette Midler and Shelley Long and "the Prince of Tides" with Nick Nolte and Barbra Streisand and even narrated some the "Thomas the Tank Engine" TV shows, from 1991 to 1993.
He married Brenda Hosbrook in 1960.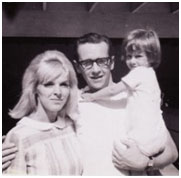 They had one child, Kelly, and remained married until she died in May 1997.
Later that year, he met comedy writer Sally Wade and they married in June 1998. They remained married until he died.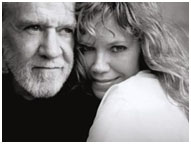 Carlin had a decade's long fight with heart problems, including three heart attacks. He died at age 71 of heart failure, about three years after being treated for addictions to alcohol and Vicodin.
George Carlin was cremated and his ashes were scattered. In accordance with his wishes, no public memorials were held.