Famously Dead A-Z:

Cause of Death:
View information about Garry Marshall's death here on famously-dead.com. You can view information about Garry Marshall's death and other famous deaths. You can view by name or by cause of death. We also have included the most popular famous deaths.
Garry Marshall's Death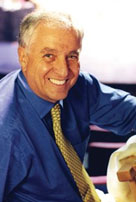 Garry Marshall
Movie & TV Producer, Director, Writer, Actor
November 13, 1934
July 19, 2016
Pneumonia complications
The life and death of Garry Marshall:
He was a Depression-era Italian-American kid from the Bronx who went on to a long, very successful career in Hollywood as the man behind several very popular and successful TV shows and movies.
Born Garry Kent Masciarelli, his father Anthony was an industrial film director whose family originated in Abruzzo, Italy. His mother, the former Marjorie Ward, was a tap dance teacher and was of English, Scottish and German ancestry. The family name was changed to Marshall shortly after Garry was born. He had two sisters: Penny Marshall (a future actress and director) and Ronny (Hallin – a future TV producer.)
Garry attended school while growing up in the Bronx and then went on to Northwestern University to study journalism. However, his life's work began as a joke writer for comedians like Phil Foster and Joey Bishop. He later landed a writer's job on the original "Tonight Show with Jack Parr".
After a move to Hollywood in 1961, he teamed up with Jerry Belson as a TV writer…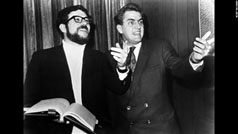 …and they worked on such popular series as the "Dick Van Dyke Show", "The Lucy Show", the "Danny Thomas Show", and the "Joey Bishop Show".
Stepping up from being writers, they created their first series "Hey Landlord" in 1966 and went on to create TV's "The Odd Couple".
Their biggest hit series was "Happy Days".
Garry also created "Laverne and Shirley", which co-starred his sister Penny…

…and "Mork & Mindy", starring Robin Williams.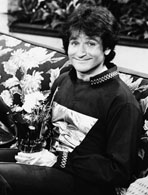 Garry was also a child actor, with a recurring role in "The George Burns and Gracie Allen Show" in the 1950's and in his later years he made a guest appearance on TV's "Two and a Half Men."
Marshall also directed a series of feature films, including "Beaches", "The Princess Diaries" and "Pretty Woman".
Garry was married to the former Barbara Wells and they had three children, including director Scott Marshall.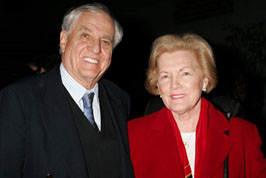 Garry has a star on Hollywood's Walk of Fame.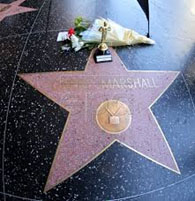 He died in the summer of 2016 at a Burbank, California hospital of complications of pneumonia after suffering a stroke. He's buried at Forest Lawn Memorial Park in the Hollywood Hills of Los Angeles.