Famously Dead A-Z:

Cause of Death:
View information about Dick Enberg's death here on famously-dead.com. You can view information about Dick Enberg's death and other famous deaths. You can view by name or by cause of death. We also have included the most popular famous deaths.
Dick Enberg's Death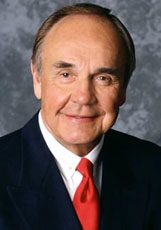 Dick Enberg
Sportscaster
January 9, 1935
December 21, 2017
Heart Attack
The life and death of Dick Enberg:
He was one of the best known sportscasting voices in the United States, having made his mark in all leagues, including baseball, football, basketball and various other sports.
Richard Alan Enberg was of Finnish descent, and the original family name was Katajavuori. His paternal grandparents changed it to Enberg before moving to the United States. His mother, Belle, was of German, English, French and American Indian extraction.
Dick was born in Mount Clemens Michigan and when he was two years old, the family moved to Bridgeport, Connecticut, then to Southern California in 1940 before returning to a farming life near Armada, Michigan.
Dick graduated from high school in Armada and went on to Central Michigan University. He also got his media start at WSAM radio in Saginaw, Michigan. But he didn't go straight to media. He did Masters and Doctorate degree work in Health Sciences at Indiana University. While he was there, he entered the radio business.
He started working as play-by-play announcer for Indiana Hoosiers football and basketball games.
And by the late 1960's, Dick moved his sportscasting career to Los Angeles for KTLA-TV where he anchored sportscasts and called UCLA Bruins basketball games.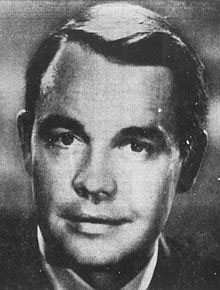 He was also the radio voice of the Los Angeles Rams NFL team and baseball's California Angels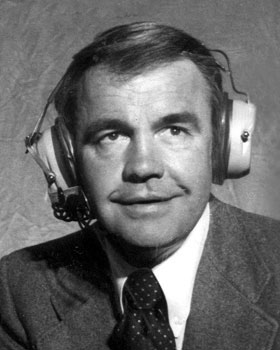 He also announced boxing matches in Los Angeles and starting in 1975 did play by play for NBC sports for both major league baseball and the NFL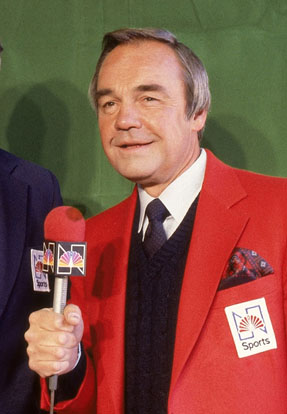 Dick joined CBS Sports in 2000 and added tennis and golf to his list of sports announcing and wrapped up his career as the voice of the San Diego Padres baseball team.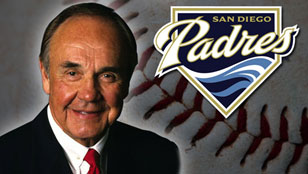 Dick won 13 Sports Emmy Awards and won awards from the Halls of Fame for Baseball, Football and Basketball. His trademark call was "Oh My!"
Dick also has a star on Hollywood's Walk of Fame.
He had three children with his first wife, Jeri Taylor and three more with second wife, Barbara Hedring…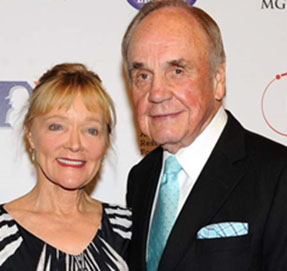 …to whom he was married when he died from a suspected heart attack in La Jolla. California at the age of 82.