Famously Dead A-Z:

Cause of Death:
View information about David Brenner's death here on famously-dead.com. You can view information about David Brenner's death and other famous deaths. You can view by name or by cause of death. We also have included the most popular famous deaths.
David Brenner's Death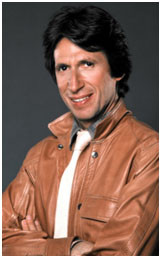 David Brenner
Comic
February 4, 1936
March 15, 2014
Cancer
The life and death of David Brenner:
Stand-up comedy was his claim to fame, and he was a frequent guest and stand in host on NBC-TV's "The Tonight Show" in its golden years with host Johnny Carson. However, a child custody battle limited his ability to travel to gigs, trimming his schedule and his career.
David Norris Brenner was born in a poor Jewish family in Philadelphia. His father Louis was a vaudeville performer working under the stage name of Lou Murphy. He curtailed his career out of deference to his father, a rabbi, who didn't want Louis working on the Jewish Sabbath. It foreshadowed David's decision to put family considerations before his own career.
After graduating high school, David spent two years in the Army in Germany and attended Temple University when his tour of duty ended. He graduated Temple with honors, majoring in Mass Communication.
He took his media knowledge in to the field of television, working as a writer, director or producer on 115 documentaries while heading the documentary units for Westinghouse Broadcasting and Metromedia. He won almost thirty awards, including an Emmy, for his documentary work.
However, in June 1969, his career morphed into comedy and he as a pioneer in "observational comedy", finding humor in the things that make up everyday life. It was a style that hit a high point on the "Seinfeld" TV series.
David hit the national scene with his debut on "The Tonight Show" in 1971.
He became one of Johnny Carson's favorites and with 158 appearances, became the show's most frequent guest. In many of those appearances, David would be asked to do a few minutes of stand-up before making it to Johnny's couch. Carson explained it was because he'd like to sit back, have a smoke and laugh for a few minutes.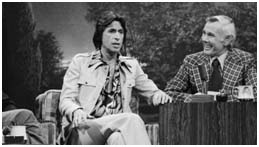 David had found a key career niche and went on to become a substitute "Tonight Show" host 75 times between 1975 and 1984 when Carson was away.
In 1995, David told the Associated Press that if Carson retired in the 1980's, he thought he'd have been his replacement.
Brenner also wrote five books and starred in four of his own specials on the HBO cable channel. His comedic range allowed him to comment on current events and politics on MSNBC and Fox News Channel cable programs.
However, an attempt to break new ground on TV failed in 1976, when an NBC TV series called "Snip", set in a hair salon, was cancelled before it aired. It was because the supporting cast included what would have been one of the first gay characters in an American sitcom.
In 1986, a 30 minute, syndicated late night talk show called "Nightlife", an attempt to compete with Carson, failed after one season.
David was also a frequent guest on Howard Stern's radio show and he's remembered for helping the careers of up and coming young comics, like Freddie Prinze, Richard Lewis and Jimmie Walker. While his career slowed down in his later years he did work through 2013, including a year ending show at a casino-resort in Pennsylvania, showcasing young talent.
David had three children. Cole, his oldest son, was the subject of the custody battle that curtailed his career. While David won custody in 1992, he was living in Aspen, Colorado. Family courts would have considered him an absentee father if he was away from home more than fifty times a year, cutting into David's ability to travel, including to host "The Tonight Show". He never regretted it and added that coming from the slums of Philadelphia, everything in his life was profit.
He married Elizabeth Slater…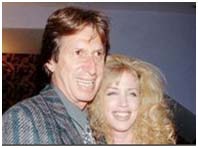 …in 2000 and they had two sons, Slade and Wyatt. They divorced about a year later and fought two custody battles. David won both.
He was engaged to figure skater Tai Babilonia…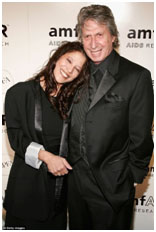 …but they never married. In 2011 he married again. He and his wife Ruth were together until he died.
He was survived by Ruth, his three sons and a grandson, Wesley.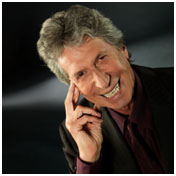 Funny to the very end, his family said David's final request was that one hundred dollars in small bills be placed in his left sock, "just in case tipping is recommended where I'm going."