Famously Dead A-Z:

Cause of Death:
View information about Calamity Jane's death here on famously-dead.com. You can view information about Calamity Jane's death and other famous deaths. You can view by name or by cause of death. We also have included the most popular famous deaths.
Calamity Jane's Death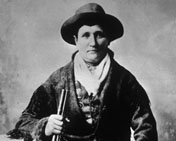 Calamity Jane
Frontier Woman, Performer
May 1, 1852
August 1, 1903
Pneumonia
The life and death of Calamity Jane.
She was an American original who was a real trailblazer and a true frontierswoman in the most basic sense of the word. She was a professional scout and fought for Native Americans. She had a reputation of caring for the sick and needy and was a popular performer.
She also made a habit of wearing men's clothes.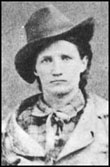 She was born Martha Jane Canary in Mercer County, Missouri. She was the oldest of Robert and Charlotte Canary's six children. The family moved to Montana in 1865 and mom Charlotte died of pneumonia a year later. So the widowed father took the six kids south to Salt Lake City, Utah.
And then he died a year later.
So Martha Jane loaded up her five siblings and headed for Wyoming and took all manner of jobs from cook, dishwasher and waitress to dance hall girl. She also started her sporadic career as a prostitute. Never having received an education, she was illiterate and moved on to a rougher life on the Plains.
She claimed to have received her nickname from an Army captain she rescued after an Indian skirmish in Wyoming, although that's been disputed. Others say the nickname came from her warning to men that if they offended her, they would risk a calamity.
Eventually, Calamity Jane's arrival was heralded in Blackwood, South Dakota in 1876, when she arrived as part of Wild Bill Hickok's wagon train.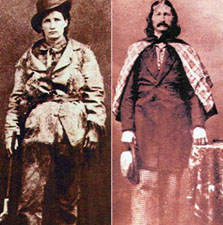 She settled there and was a great admirer of Hickok's, who himself was gunned down during a card game. Jane claimed she went after his killer Jack McCall with a meat cleaver. Although McCall didn't live long, it's because he was executed for murder.
There was a claim Jane and Wild Bill had a daughter but that's been disputed. Jane had two daughters, although the father's identity was never confirmed.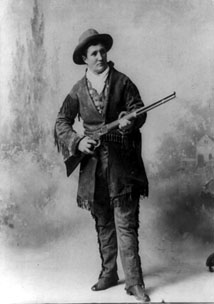 In the latter part of her life, she was a stage performer in Buffalo Bill's Wild West Show and appeared at the Pan-American Exposition in 1901, engaging in storytelling in which she would embellish her legend. It's one of the reasons why some true facts of her life are still hard to pin down.
She was also notable for being quotable.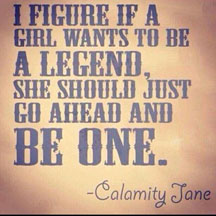 Jane also had an alcohol addiction. She was back in the Black Hills in 1903 and fell ill. There were reports she'd been drinking heavily and she succumbed to pneumonia and inflammation of the bowels.
Calamity Jane's buried at Mount Moriah Cemetery in South Dakota…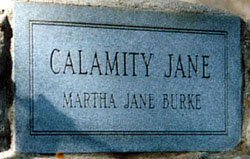 …close to the grave of her main man.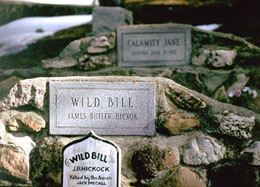 Jane's been memorialized in musicals, like this one…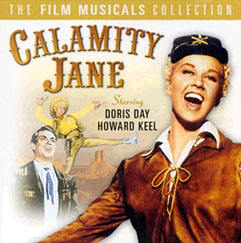 …in which the Doris Day hit song "Secret Love" was introduced.
That won the "Best Original Song" Award at the 1953 Oscars.
Calamity Jane was also portrayed on HBO's "Deadwood"…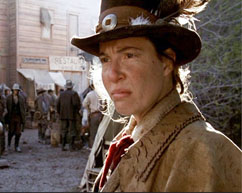 …by Robin Weigert.