Famously Dead A-Z:

Cause of Death:
View information about Bess Myerson's death here on famously-dead.com. You can view information about Bess Myerson's death and other famous deaths. You can view by name or by cause of death. We also have included the most popular famous deaths.
Bess Myerson's Death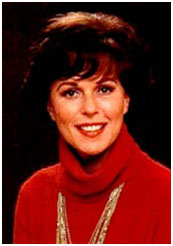 Bess Myerson
TV Personality, Consumer Advocate, Politician
July 16, 1924
December 14, 2014
Undisclosed
The life and death of Bess Myerson:
She was a beauty queen who was the first (and only) Jewish Miss America, winning that title shortly after the United States won World War II. And she used that celebrity to branch out as a commercial spokeswoman, TV personality, on-air reporter, actress, consumer advocate, civil rights activist and politician.
Bess Myerson was born in the Bronx, New York to Russian-Jewish immigrants: Louis and Bella Myerson. She had two sisters, Sylvia and Helen. A brother died of diphtheria at the age of three before shew was born.
Bess started studying the piano when she was nine and attended Hunter College and graduated with a music degree in 1945. That year, at the age of 21, 5' 10" Bess won the Miss America title. She was competing as Miss New York.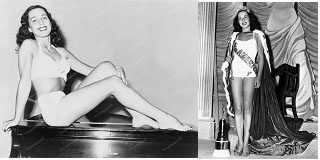 She used the prize money to pay for graduate school at Julliard and Columbia University.
In the 1950's she was a panelist of TV game shows like "The Name's the Same" and "I've Got a Secret"
And for the next two decades, she branched out to pitch various products…
…to the point where she became New York City's first Consumer Affairs Commissioner from 1969 to 1973…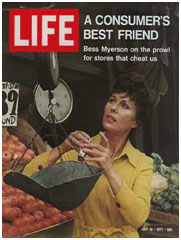 …pioneering consumer protection laws – like requiring retailers to put unit prices on items to assist in comparison shopping.
She helped her frequent companion Ed Koch get elected Mayor of New York City.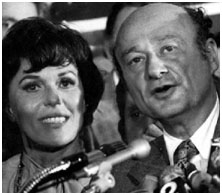 Myerson even waged a campaign for the U.S. Senate from New York in 1980, but lost.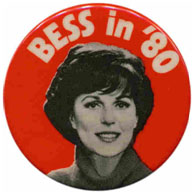 But it all unraveled in 1988, she became involved in a scandal involving a romance with a married man, Carl Capasso.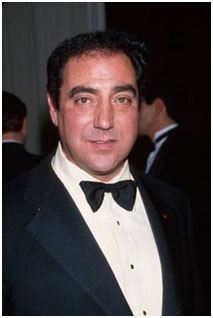 It soon was revealed that the judge hearing Capasso's divorce, Hortense Gabel…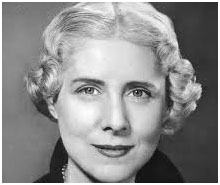 …was socializing with Bess and that Myerson hired her daughter.
When Judge Gabel cut Capasso's child support payments, investigators wanted to know if she's been bribed. It ultimately leading to federal charges of conspiracy, mail fraud and obstruction of justice against Myerson, Capasso and Gabel.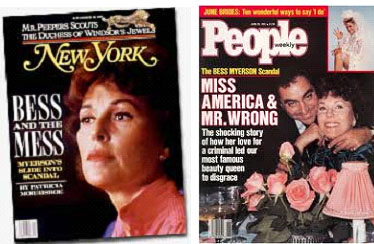 All three were acquitted of the alleged crimes but the scandal ended Myerson's public life.
Also in 1988, she was arrested for shoplifting nail polish and earrings, pleaded guilty and paid a fine. A 1970 shoplifting conviction was also revealed.
Myerson married U.S. Navy Captain Allen Wayne in 1946 and they had a daughter Barbara. But they divorced following accusations of domestic violence. She later married attorney Arnold Grant but they divorced in the early 1970's.
Her daughter went onto a career of her own as an actress, director and screenwriter under the name Barra Grant.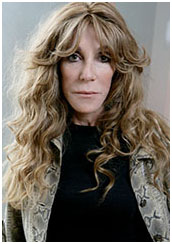 Bess Myerson survived a bout of ovarian cancer in the 1970's and suffered a mild stroke in 1981. In 2013, it was revealed she was suffering from dementia. Bess died on December 14, 2014 at her home in Santa Monica, California of undisclosed causes. She was 90 years old.