Famously Dead A-Z:

Cause of Death:
View information about Anna Nicole Smith's death here on famously-dead.com. You can view information about Anna Nicole Smith's death and other famous deaths. You can view by name or by cause of death. We also have included the most popular famous deaths.
Anna Nicole Smith's Death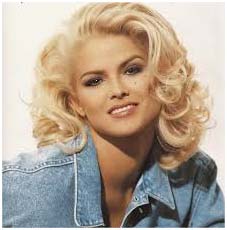 Anna Nicole Smith
Model, Actress
November 29, 1967
February 8, 2007
Overdose
A model, actress and TV personality, she personified the Blonde Bombshell for the New Millennium. And a controversial divorce added some extra spice to an abbreviated life that ended after some family-related anguish with an accidental overdose of prescription drugs.
Anna Nicole Smith was born Vicki Lynn Hogan near Houston, Texas. Her parents divorced when she was only two years old and she was raised by her mother and an aunt.
A high school drop-out at 15, she herself was married at age 17 and gave birth to a son, Daniel, a year later. Vicki worked at places like Wal-Mart and Red Lobster and in 1989, she became a stripper. Vicki (now Anna Nicole) didn't gain much attention until she saved enough to get, what she herself called "bowling ball" implants, thus becoming the most popular stripper in the club. (Her surgically enhanced measurements were 36DD-26-38.)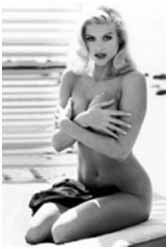 Using her now ample assets, she started modeling and was a Playboy centerfold in May 1992.
Playboy knew what its readers wanted and used her for several covers.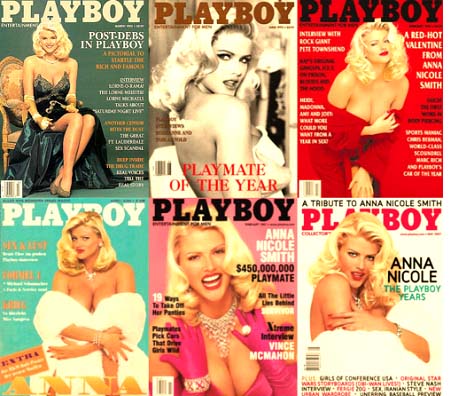 Anna then went on to model Guess jeans, whose photographers thought she looked like another statuesque blonde of another era, Jayne Mansfield.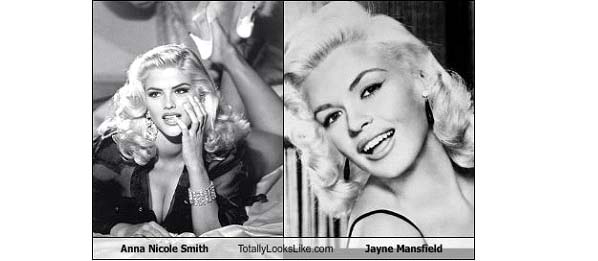 In 1994, while performing at a Houston strip joint, Anna met J. Howard Marshall…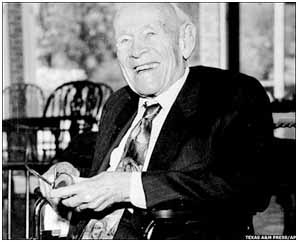 …an elderly oil tycoon and they started a relationship. They married and Anna was branded as a Gold-digger.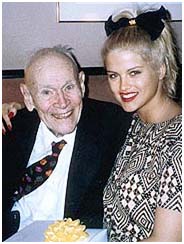 She claimed she loved him…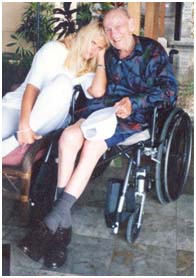 …although it was reported the marriage lacked intimacy (no sex, no living together, infrequent kissing.)
13 months later Marshall died at age 90 and Anna claimed half of his estate, which totaled $1.6 billion.
One of Marshall's sons fought her claim and several ensuing court decisions went for and against her. Anna ended up winning a unanimous U .S. Supreme Court decision allowing her to pursue a share of the Marshall estate, but the legal wrangling continues.
Anna's pursuit of a career in TV and film provided some notable roles ("The Hudsucker Proxy", "Naked Gun 331/3: The Final Insult", "Sin City Spectacular"), but little critical acclaim.
And then the heartache came.
What began as tears of joy with the birth of daughter Dannielynn on September 7, 2006…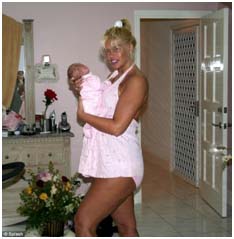 Turned to tears of anguish three days later when her now 20 year old son, Daniel….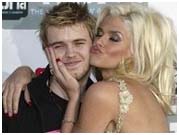 …died in his mother's hospital room, of a drug overdose.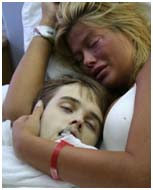 A mere five months later, on February 8, 2007, Anna Nicole Smith was found dead at the Seminole Hard Rock Hotel and Casino in Hollywood, Florida.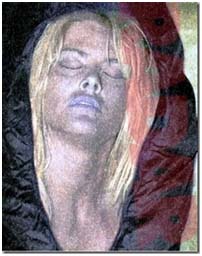 A seven-week investigation found that she died of drug intoxication -- no illegal substances -- but the sleeping medication, chloral hydrate, was blamed.
To this day, the fight for the Marshall Estate money continues in the name of Anna's daughter, Dannielynn.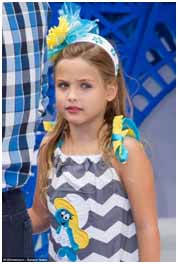 Anna's buried in Nassau, the Bahamas.