Famously Dead A-Z:

Cause of Death:
View information about Alan Thicke's death here on famously-dead.com. You can view information about Alan Thicke's death and other famous deaths. You can view by name or by cause of death. We also have included the most popular famous deaths.
Alan Thicke's Death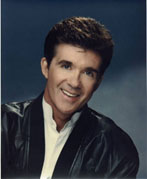 Alan Thicke
Actor
March 1, 1947
December 13, 2016
Heart attack
The life and death of Alan Thicke:
This versatile Canadian-born entertainer left his legion fans shocked when he died suddenly and unexpectedly of a heart attack. This after years in the public eye as an actor, TV talk show host and composer.
Alan Willis Jeffrey was born in Kirkland Lake, Ontario. His father William was a stock broker, his mom Shirley was a nurse. Alan's parent's divorced in 1953, and his mother married Brian Thicke, a doctor. Alan took his last name.
The family moved to Elliot Lake where Alan attended school and went on to the University of Western Ontario.
From there he hosted a TV game show in the late 1970's and hosted a TV version of the board game, "Pictionary."
Alan then joined the staff of "Fernwood 2 Night" as a writer and in the early '80's was hosting "The Alan Thicke Show" in Canada, which morphed into American TV's "Thicke of the Night"
Alan was also a TV theme song composer for programs like "Diff'rent Strokes" and "The Facts of Life." and here's an audio montage featuring some of them:
Probably his best-known role was as Jason Seaver in ABC-TV's Growing Pains from 1985 to 1992.
Alan was married three times, to actress Gloria Loring from 1970 to 1984.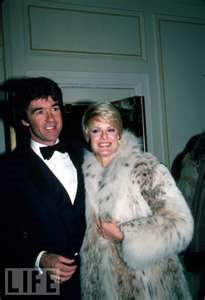 She collaborated on some of his TV these songs and they had two sons, Brennan and Robin.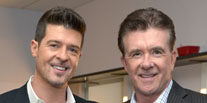 This is Robin with his Dad.
Alan's second wife was Gina Tolleson and they had a son Carter and was married to Tanya Callau from 2005 until his death.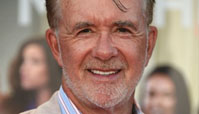 Alan's sudden death stunned his fans. He was playing hockey with his son Carter when he collapsed. He was talking and even joked with his son, but died at Providence St. Joseph Medical Center at the age of 69.