Famously Dead A-Z:

Cause of Death:
View information about Fidel Castro's death here on famously-dead.com. You can view information about Fidel Castro's death and other famous deaths. You can view by name or by cause of death. We also have included the most popular famous deaths.
Fidel Castro's Death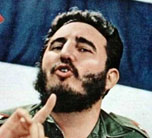 Fidel Castro
Dictator
August 13, 1926
November 26, 2016
Undisclosed
The life and death of Fidel Castro:
He was one of the most important political figures of the late 20th century - the lawyer turned revolutionary who turned Cuba into the first Communist country in the Western Hemisphere, which created all sorts of problems with its neighbor just ninety miles away, the United States.
Fidel Alejandro Castro Ruz was born out of wedlock on his father's sugar cane farm in Biran, Cuba. His father Angel Castro migrated to Cuba from Galicia, Spain and grew wealthy with his farm. When Angel's first marriage failed, he took up with one of his household servants, Lina Ruz – Fidel's mother – and eventually Angel's second wife. Fidel ended up with six siblings from that pairing.
Raised a Catholic, Fidel was sent to attend private schools as a boy…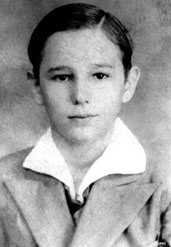 …and began studying law at the University of Havana in 1945.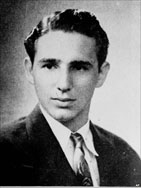 He became a student activist, opposing what he considered imperialist U.S. intervention in the Caribbean region.
However, even though he railed against the United States, that didn't stop him from taking a bite at the capitalist apple. A pretty good pitcher, he tried for a career in Major League Baseball in the early 1950's.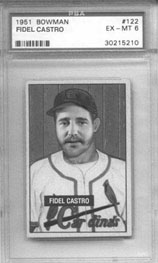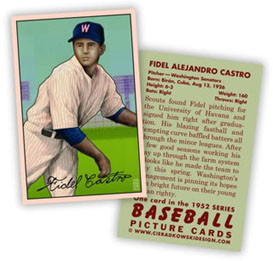 It turns out his most effective pitch was yet to come.
Back in Cuba, Castro started a legal partnership focusing on the needs of poor Cubans, but the effort was a financial failure. And when Cuban Army General Fulgencio Batista sized power in a military coup in March 1952, Castro bitterly opposed the new dictator. When legal means failed, Castro looked towards revolution.
As early as 1953, he led uprisings of cane cutters against the military government, and was arrested. Further conflicts followed, with Castro teaming with his brother Raul (who succeeded him as the Cuban leader in February 2008) and Argentine Marxist Ernesto Che Guevara…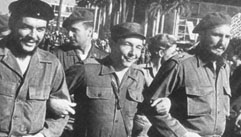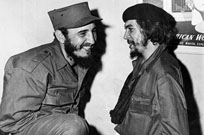 … who left Cuba in 1965, trying to stir other revolutions but was captured and executed.
The Cuban fight ended when Battista fled into exile with $300 million dollars on New Year's Eve, 1958. Two days later, as 1959 dawned, Castro was met with cheering crowds and by February 16, 1959, he was sworn in as Prime Minister.
The United States was already wary of Castro's socialist leanings and an April 1959 meeting with Vice President Richard Nixon didn't help, as the two men instantly disliked each other.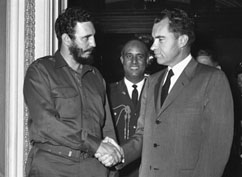 And even though he'd denied being a Communist at first, Castro started appointing Marxists to key government positions and eventually cozied up with Russia and its leader Nikita Khrushchev.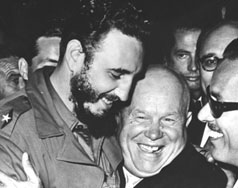 This led, in the early 1960s, to a great deal of conflict with the United States when President John F. Kennedy authorized the failed Bay of Pigs invasion against the Castro regime. Several months later, the Cuban missile crisis nearly exploded into World War 3, when Castro allowed the Russians to place tactical nuclear weapons on his island, just 90 miles from Florida. It stopped just short of fighting when the Russians respected a U.S. naval quarantine of the island.
But it didn't end there. There were reported CIA plots to assassinate Castro.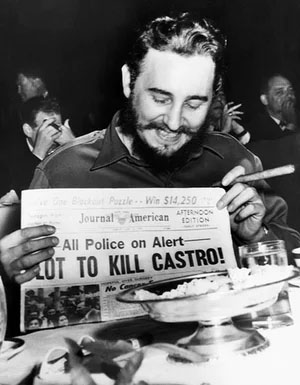 And when President Kennedy was shot and killed by a sniper in Dallas in November 1963 Castro was among the many that conspiracy theorists thought may have been behind the assassination.
That was never proven but what was true was that thousands fled Cuba for the United States settling in Florida, detesting the new leader and his reign of terror. After Castro died, these Cuban Americans were dancing in the streets of Miami, celebrating.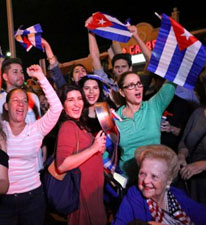 However, over several decades, Castro remained a staunch Communist revolutionary.
Castro stepped down as Cuban leader in 2008 with his brother Raul taking over.
And the United States embargo against Cuba lasted for more than half a century until President Barack Obama decided in 2015 to normalize relations between the two countries. Americans were free to visit Havana again and buy Cuban cigars.
Castro's first wife was Mirta Diaz-Balart…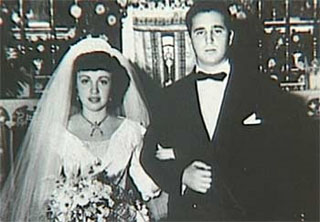 …with whom he had a son, Fidelito, or Fidel Jr.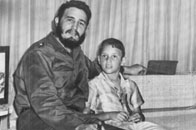 But while they were married, he started carrying on with Natalia Revuelta…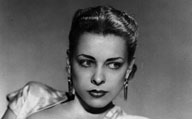 …who already had a husband, but also had Castro's daughter, Irina.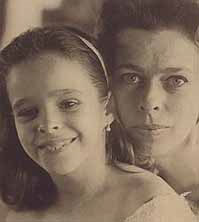 Irina later fled Cuba and told the Miami Herald that the world thought of her father as a dictator, but she considered him a tyrant!
Castro's second wife, and widow, was Dalia Soto del Valle.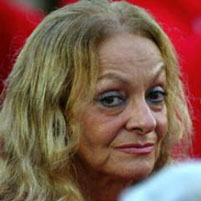 They had five sons and lived on a hidden luxury estate near Havana.
These are some of their sons and a couple of friends.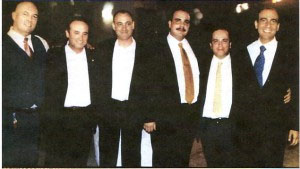 (They are – from left to right - Alex; a friend; Alexis; Angel; a Mexican Businessman and Alejandro.
(There were other mistresses and as many as 11 children with four women — only two of whom he was married to.)
Dictator, tyrant, Communist atheist – none of that got in the way of the baptized Catholic Fidel getting audiences with various Popes!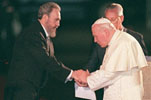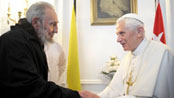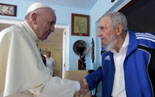 Pope Francis said he mourned Castro and prayed for him.
it was announced right after Thanksgiving in 2016 that the long-time dictator died. He was cremated and his ashes were to be taken in a procession across Cuba, from Havana to Santiago, retracing in reverse the route Castro took when the revolution was won in 1959.