Famously Dead A-Z:

Cause of Death:
View information about Osama Bin Laden's death here on famously-dead.com. You can view information about Osama Bin Laden's death and other famous deaths. You can view by name or by cause of death. We also have included the most popular famous deaths.
Osama Bin Laden's Death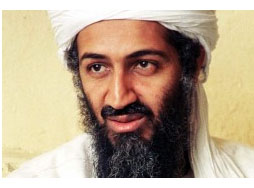 Osama Bin Laden
Terrorist Leader
March 10, 1957
May 2, 2011
Shooting
He headed the biggest network of Islamist terrorists, who in turn carried out the most heinous terrorist acts ever against the United States. And while it took nearly a decade, U.S. Navy SEALs finally wiped the smirk off his face forever.
Osama bin Laden was a child of wealth.
His father Mohammed…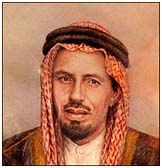 …was a billionaire in the construction industry in the family's home of Saudi Arabia. But young Osama….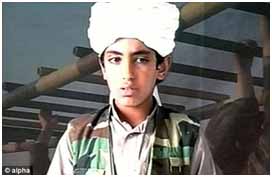 …didn't want to go into the family business and joined Mujahedeen forces in Pakistan to fight against the Soviet Union in Afghanistan in the 1980's.
In 1988 he formed Al Qaeda, and was banished from the Saudi homeland. Wanting U.S troops out of Saudi Arabia, by 1992 he declared war against the U.S. and joined the FBI's most wanted list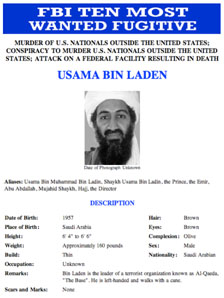 …for involvement in the 1998 U.S. Embassy bombings in East Africa.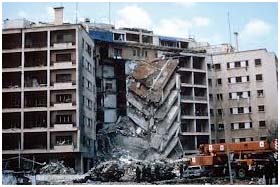 After spearheading Al Qaeda during the 9/11 attacks on September 11, 2001…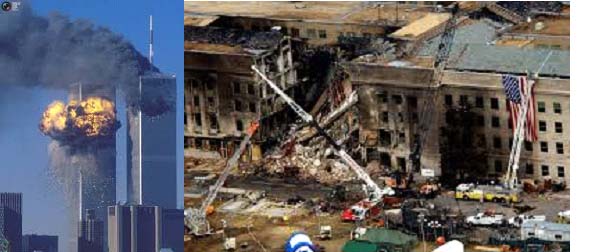 …bin Laden was the main target in the War on Terror, with a $25 million price on his head. (Note the added paragraph on his "wanted poster".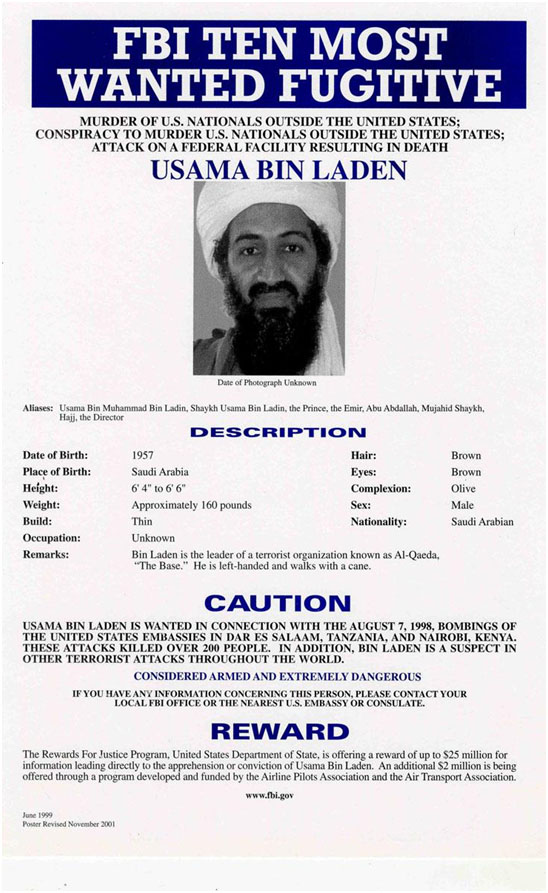 In May, 2011, Bin Laden was tracked down to a private residential compound in Pakistan.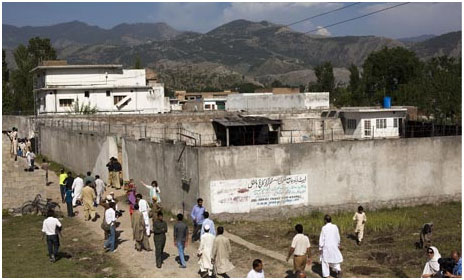 …by the CIA and taken out by Navy SEALs.
Bin Laden was later buried at sea so no shrine could ever be erected for him.