Famously Dead A-Z:

Cause of Death:
View information about Jesse James's death here on famously-dead.com. You can view information about Jesse James's death and other famous deaths. You can view by name or by cause of death. We also have included the most popular famous deaths.
Jesse James's Death
Jesse James
Criminal
September 5, 1847
April 3, 1882
Shooting
It isn't often that there's genuine outrage about the death one of the biggest criminals in the country. Jesse James was a true American outlaw in the post-Civil War period.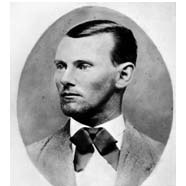 In the days of the Wild West, Jesse robbed banks, trains, led a gang and murdered. And yet, he was seen by many as a victim because of the way he died.
Jesse and his brother Frank…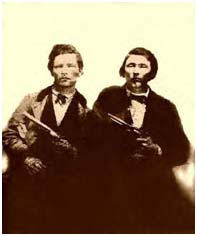 …fought for the South during the Civil War and when it ended, they joined a gang of thieves, targeting stagecoaches, banks and trains. They had a reputation as a bunch of Robin Hoods, stealing from the rich and giving to the poor. (There's little evidence they gave anything to anybody.)
The James gang's heyday was the decade from 1866 to 1876. In '76, an attempted bank job in Northfield, Minnesota led to the arrests or deaths of some of the gang's members. Although the James brothers continued their crime spree, they were being chased by the law and in 1882, Jesse met his end at the hand of one of his gang members, Robert Ford.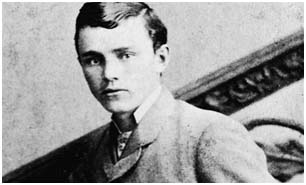 Ford learned about reward money being available and cut a deal with Missouri Governor Thomas Crittenden to get it.
On an April morning, after a breakfast meal at Jesse's home…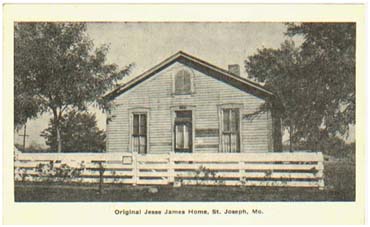 …Jesse, Robert and Ford's brother Charley were getting ready to go out for another robbery, going in and out of the house making preparations.
Jesse then took a moment to clean off a dusty picture…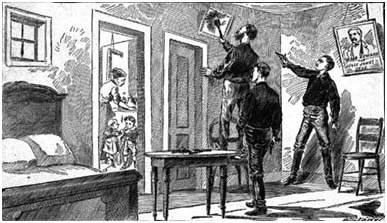 …and Robert shot him in the back of the head.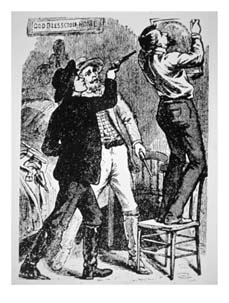 The Fords didn't try to conceal it and neighbors flocked to the house to witness a piece of history.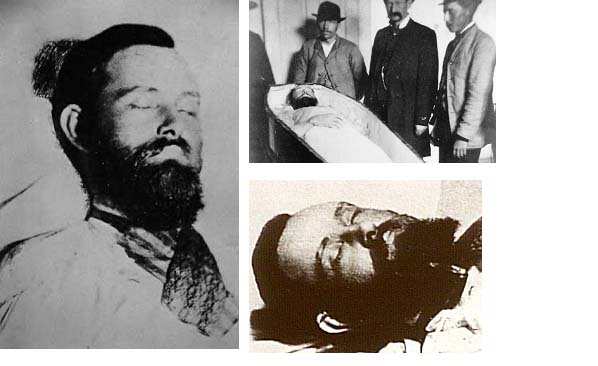 Robert contacted the governor to claim his reward money but when he and Charley surrendered, they were arrested and charged with first degree murder. Over a one day period, the Fords were indicted, convicted, and sentenced to be hanged – only to be granted a full pardon by the Governor…and getting a portion of the reward money.
Robert and Charley left Missouri and started a little stage tour, talking about the way they killed Jesse James.
However, Charley was addicted to morphine and ill with tuberculosis and he committed suicide in 1884.
Robert opened a saloon in Creede, Colorado…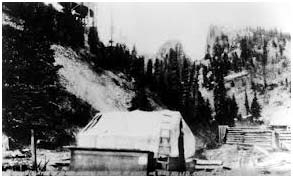 …and in June of 1892, Edward O'Kelley went to that tent with a loaded, double barrel shotgun and shot Robert Ford in the throat. Ford fell dead.
O'Kelley drew a life sentence, but when thousands of people held a petition drive asking for his release, O'Kelley was pardoned in October, 1902, after an eight year prison stretch.
Jesse James' widow Zerelda…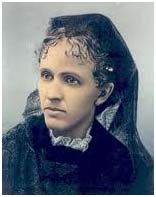 …died alone and in poverty.
There were unfounded rumors that Jesse escaped, that Ford killed someone else, and that Jesse lived to the ripe old age of 104…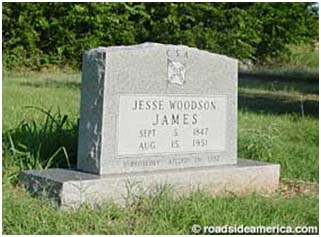 …and is buried in Granbury, Texas.
Jesse was memorialized under a monument that his mother made special for him, to show her contempt for the man who took her son's life.

He was first buried on the family farm, so Mom could make sure grave robbers didn't steal his remains, to charge for viewing.
As best as can be determined, Jesse and his widow are buried…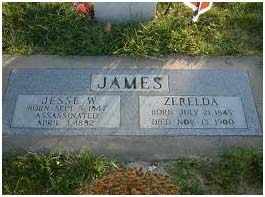 …in a family plot in Mount Olivet Cemetery in Kearney, Missouri.
Among the museums and sites for Jesse…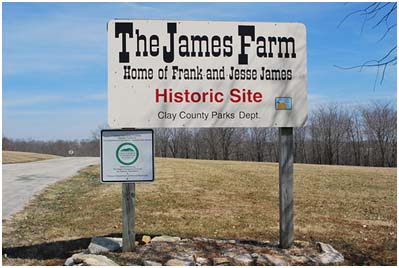 And the Jesse James Home Museum…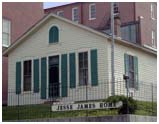 …where he was shot, in St. Joseph, Missouri.
Numerous songs refer to the Jesse James saga, like this one…
…and more than two dozen movies have been made about Jesse James since 1921. He's usually portrayed as a Robin Hood type character.
Ford's buried in the Richmond City Cemetery in Missouri.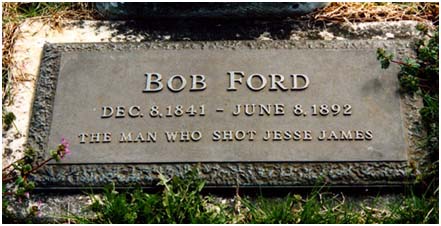 He's portrayed as a coward, for shooting Jesse while his back was turned.