Famously Dead A-Z:

Cause of Death:
View information about Jack Kevorkian's death here on famously-dead.com. You can view information about Jack Kevorkian's death and other famous deaths. You can view by name or by cause of death. We also have included the most popular famous deaths.
Jack Kevorkian's Death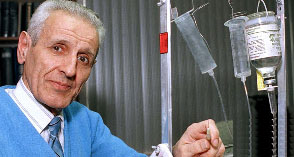 Jack Kevorkian
Medicine
May 26, 1928
June 3, 2011
Blood clot (Thrombosis)
The life and death of Jack Kevorkian:
If doctors are sworn to the Hippocratic oath of "First do no harm", this guy did a 180 degree turn. He helped his patients die, with assisted suicides.
Jacob Kevorkian was born in Pontiac, Michigan to Armenian parents. His father Levon worked in the auto industry. His mother Satenig had two daughters in addition to Jack.
Jack attended local schools and graduated from the University of Michigan Medical School. Over time, he came up with some unorthodox ideas related to death.
Jack Kevorkian is buried at White Chapel Memorial Park Cemetary in Troy, Michigan.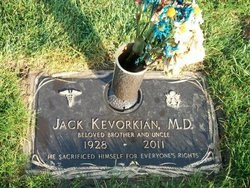 For more information, view Jack Kevorkian's arrest.