Famously Dead A-Z:

Cause of Death:
View information about Eric Harris & Dylan Klebold's death here on famously-dead.com. You can view information about Eric Harris & Dylan Klebold's death and other famous deaths. You can view by name or by cause of death. We also have included the most popular famous deaths.
Eric Harris & Dylan Klebold's Death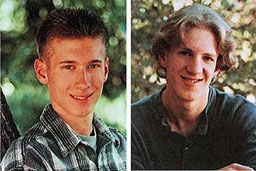 Eric Harris & Dylan Klebold
Criminals
Harris: April 9, 1981; Klebold: September 11, 1981
April 20, 1999
Suicide
The lives and deaths of Eric Harris and Dylan Klebold:
From their boyhood photographs…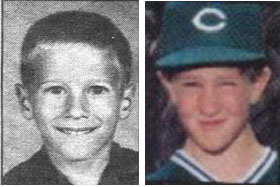 …they looked like any normal American kids. But as high school seniors, they authored one of the most shocking and brutal crimes in American history: the Columbine High School Massacre.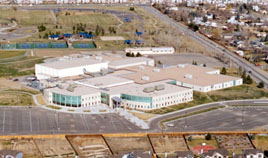 They killed 13 people and injured 24 others.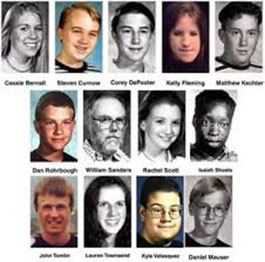 Then, they committed suicide in the school library, where they killed 10 of the victims.
Eric David Harris was born in Wichita, Kansas and the family relocated often because his father Wayne was U.S. Air Force transport pilot. When Wayne retired from the military service, the family moved from Plattsburgh, New York to Littleton, Colorado. That's where Eric met Dylan Klebold.
Dylan Bennet Klebold was a native of Colorado, born in Lakewood to Thomas and Susan Klebold.
As friends, Harris and Klebold were active in school plays. They also operated video productions and became assistants in maintaining the school's computer server. In fact the two friends linked their personal computers on a network and both played many games over the Internet.
But they were very unpopular students and the targets of bullying. Other students said that they were constantly being picked on, having catchup packets squirted all over them. One student said teachers watched the abuse and the two felt they couldn't fight back.
The two became members of a group called the Trenchcoat Mafia.
They started expressing their hatred for the people in their neighborhood, in the world in general, and started experimenting with pipe bombs. They had a website shutdown by America Online after the shootings and it was preserved for the FBI.
The earliest signs of trouble with the law came when they broke into a van and stole computers. And by January, 1996, they were charged with mischief, breaking and entering, trespassing and theft.
Only three days before the shootings, Klebold went to the prom with a classmate.
And on the day of the massacre - April 20, 1999 - Harris arrived at school and warned a student with whom he'd patched up earlier differences to "get out of here."
A short time later, shots were heard.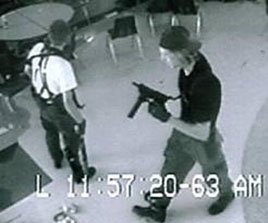 Klebold was already in school the two boys left two gym bags, each containing a 20 pound propane bombs, in the school cafeteria. But they didn't explode, so Eric and Dylan started shooting.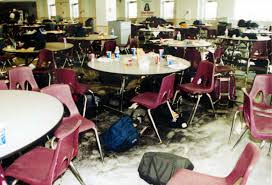 Thirteen people - 12 students and a teacher – died and two dozen were wounded, most of them critically. Harris and Klebold then went to the library, 20 minutes after their shooting rampage ended.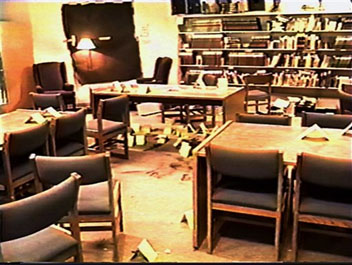 In all, ten people were killed there.
And then, at 12:08 pm, the two were heard shouting up to three and that was immediately the sound of gunfire. Harris fired his shotgun through the roof of his mouth and Klebold shot himself in the left temple.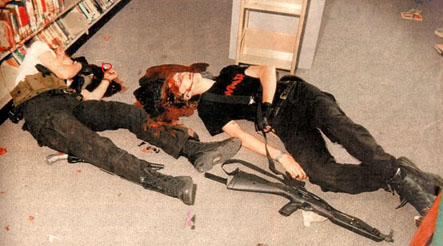 Chaos reigned at the school as first responders arrived at the scene.

The two killers left a journal in Harris's bedroom, containing almost every detail of their plan to carry out the massacre but they didn't say as much about why they did it.
Since the attack occurred on Adolph Hitler's birthday… there was some media speculation about a possible link.
In the aftermath, psychological profiles suggested that Harris was a psychopath and Klebold was a depressive. Revenge for the bullying was seen as a possible reason but psychological analysis indicated that Harris and Klebold harbored serious psychological problems. Indeed!