Famously Dead A-Z:

Cause of Death:
View information about Louis Chevrolet's death here on famously-dead.com. You can view information about Louis Chevrolet's death and other famous deaths. You can view by name or by cause of death. We also have included the most popular famous deaths.
Louis Chevrolet's Death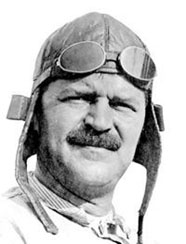 Louis Chevrolet
Inventor, Race Car Driver
December 25, 1878
June 6, 1941
Complications from Surgery
The life and death of Louis Chevrolet:
It's fitting that the man whose name is attached to speed machines like Corvettes and Camaros was a race car driver himself. However, even though his last name is the branding for the most popular line of cars and trucks for General Motors, he was never an officer of the company. In fact, when he left GM in a disagreement with senior management over the kind of cars that should carry his name, he sold his stock – which would have made him a millionaire several times over.
Louis Chevrolet was born on Christmas Day in a French speaking region of Switzerland. His father Joseph was a watchmaker and Louis was his second child with his wife Marie. The family left Switzerland for France when Louis was eight years old and Louis started developing his mechanical skills.
By 1900, now a young man, Louis left for Montreal, Canada to work as a mechanic. The next year it was on to New York and the Brooklyn operations of a French carmaker. By 1905 he was working as a race car driver for FIAT.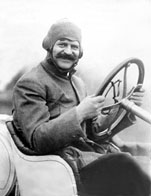 In fact, Louis Chevrolet drove a Buick in the very first Indianapolis 500 in 1911, although a mechanical issue forced him out of the race.
As his racing career continued, he drove for Buick, becoming a friend and business associate of Buick owner William Durant, the founder of GM.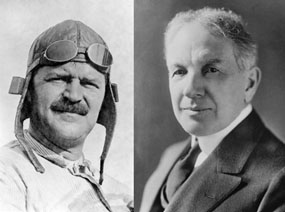 Louis learned car design during his years with Buick and by 1911 co-founded the Chevrolet Motor Car Company with Durant and other partners in Detroit. But Chevrolet and Durant started clashing over design and pricing plans. Chevrolet's plans called for a big, powerful and – for the times – expensive car with a sticker of $2150.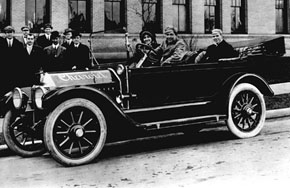 Durant wanted to focus on less expensive, faster selling vehicles. in 1915, Louis sold Durant his share of the company. But Durant loved the name and kept calling the division Chevrolet, which eventually became the flagship brand for his company for decades to come.
Louis, meantime, founded another company, Frontenac Motors, building high performance parts for Ford racing engines. (Chevrolet was working for Ford? True!)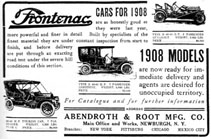 Louis built the car that won the 1920 Indy 500, driven by his brother Gaston Chevrolet, on the right in this picture.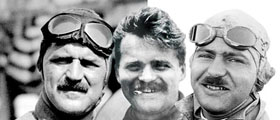 In 1929, Louis and another brother, Arthur (pictured in middle), formed the Chevrolet Aircraft Company.
And in 1934, out of charity and a moral obligation, GM put Louis Chevrolet back on its payroll. But Louis was forced to retire because of illness in 1938 and he died at the age of 63 from complications from surgery.
Louis married Suzanne Tryvoux in 1905 and the couple eventually had two sons.
There's a memorial for Louis Chevrolet at the Indianapolis Speedway.

He's buried in Holy Cross and St. Joseph Cemetery in Indianapolis, site of his biggest racing victory.