Famously Dead A-Z:

Cause of Death:
View information about John D. Rockefeller's death here on famously-dead.com. You can view information about John D. Rockefeller's death and other famous deaths. You can view by name or by cause of death. We also have included the most popular famous deaths.
John D. Rockefeller's Death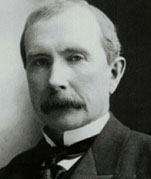 John D. Rockefeller
Business
July 8, 1839
May 23, 1937
Arteriosclerosis
The life and death of John D. Rockefeller:
Today many of us are amazed at the vast wealth of the Arab oil men of the Middle East. But they are far from the first to have great fortunes fueled by petroleum. In fact, the richest man ever in the United States made his money the same way Arab sheiks do today – with oil. And he invented the modern petroleum refining industry in the process.
John Davison Rockefeller was born of modest means in Richford, New York, the second of six children. His mother Eliza was a homemaker and a devout Baptist. His father William was literally a travelling snake oil salesman, selling dubious medical elixirs. A shady schemer, Papa Rockefeller also famously said that he wanted to keep his boys sharp, so he'd cheat them.
"Sharp" was not nearly precise enough to describe his son John.
Growing up in New York, he attended local schools before attending the Owego Academy in 1851. Two years later, the family moved to Strongsville, a suburb of Cleveland and John went to a local high school and then took a ten week bookkeeping court at Folsom's Commercial College.
He took a job at age 16 as a bookkeeper with a small produce firm and stated as a youth that he wanted to make $100,000 dollars and live to the age of 100. He almost lived that long and earned an unimaginable amount more.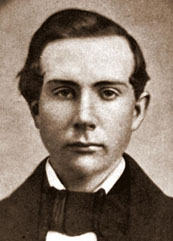 He later went into the produce commission business and he and his partner built an oil refinery in 1863, close to the earliest U.S oil fields in Pennsylvania.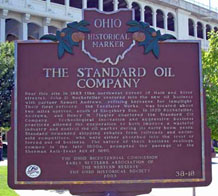 Because whale oil was scarce, people needed a new petroleum source for their lamps. As kerosene use grew for lanterns, so did his company and his fortune. And then he came up with an idea on how to use an unwanted byproduct of the oil refining process. It was called gasoline. At first, not wanting to let anything go to waste, they burned it as fuel for distilling oil. Later, when the auto industry was born, gasoline took on a prominence all its own.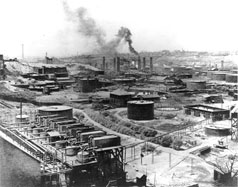 In time, his Standard Oil Company was indeed the industry standard, helped along by Rockefeller's buying up of the competition.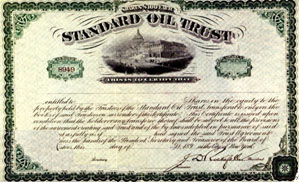 The company dominated the industry and blanketed the country…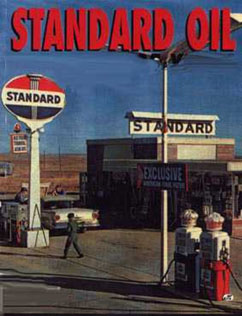 …eventually establishing its new headquarters in New York City. Rockefeller actively ran Standard until he officially retired in 1897. But Standard Oil also came under the critical eye of the U.S government, which busted up his empire in 1911.
The breakup of Standard Oil gave birth to, get this: Exxon, Mobil, Amoco (which was sold to BP), Chevron and Pennzoil, along with banking interests like Chase and Citibank.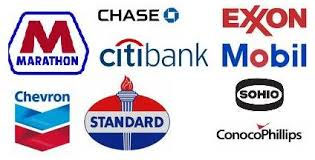 And a truly remarkable thing happened to Rockefeller after his empire was split up. Although his control of the industry was diluted, since he was a major shareholder in the new companies his personal wealth grew even more – with a fivefold increase!
Rockefeller, to his credit, was also known as one of the leading philanthropists of his day, as founder of the Rockefeller Foundation. Medicine, education and scientific research all benefited.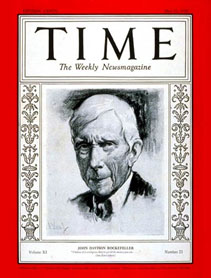 He also founded University of Chicago and Rockefeller University.
His marriage to Laura Spellman produced four daughters and a son. She died in 1915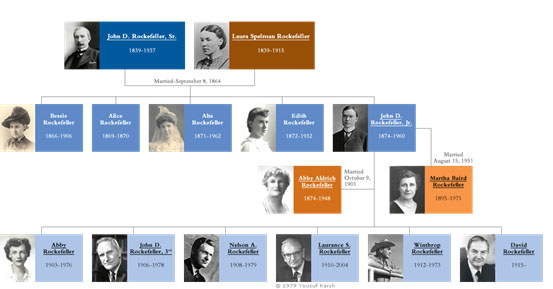 And he led a family that made history of its own. His son John Jr. developed New York's Rockefeller Center.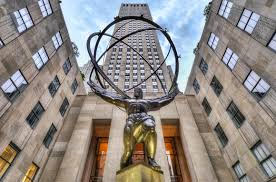 Grandson Nelson was Vice President of the United States and Governor of New York. His brother Winthrop was governor of Arkansas. Their brother David headed up the Chase Manhattan Bank and helped developed the original World Trade Center.
Other family members went on to serve as Governors and in the U.S Senate.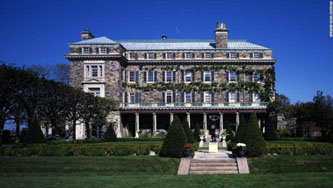 Rockefeller spent the last four decades of his life at his Kykuit estate in Westchester County, New York.
The richest person in American history, John D. Rockefeller's fortune at the height of his career hit over a billion dollars when he died in 1937 – during the Great Depression. In today's inflation-adjusted terms, it's estimated as a staggering 336 billion dollars.
He equated business success to survival of the fittest. But he also wrote that "God was good to me every day." Religion had also been a guiding force in his life and Rockefeller considered it the source of his success.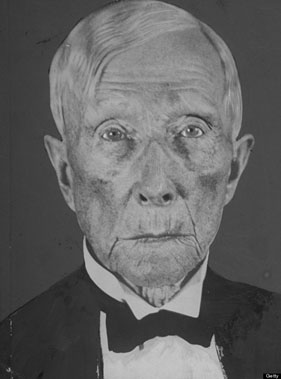 He also lived to the ripe old age of 97 before dying of arteriosclerosis. He's buried at Cleveland's Lakeview Cemetery.